Come Play Ending Explained And What The Cast And Director Said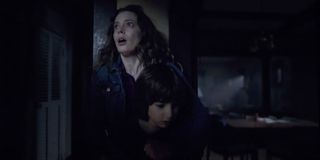 (Image credit: (Focus Features))
The main event this horror season was Jacob Chase's film debut, Come Play, which debuted at No. 1 in select theaters over Halloween weekend despite the circumstances. The movie is a scare-fueled flick about a young boy who makes contact with the monster from a story on his tablet, which manifests into the real world and taunts him and his family. Ready to dissect the Come Play ending with us?
Ahead of the film's release, I had the great honor of speaking to the parents in Come Play, Gillian Jacobs and John Gallagher Jr and writer/director Jacob Chase for CinemaBlend about their personal takes on the movie. Before we get to that, let's break down what exactly happened during the emotional finale of the horror film. This is your last chance to turn off that pesky blue light screen if you want to skip out on the spoilers ahead for Come Play until you've checked it out. Otherwise, let's get into it now:
What Happened At The End Of Come Play
The third act of Come Play involves Azhy Robertson's Oliver and his mom Gillian Jacobs' Sarah trying to get away from Larry, the storybook monster that has relentlessly come after them over the past few days. After a spine-chilling scare at Oliver's dad's parking booth, John Gallagher Jr's Marty is in the hospital and it's just mom and Oliver. They successfully dodge Larry in their home and manage to get away, until a final confrontation in the woods. Larry gestures for Oliver to take his creepy hands to come with him and be his friend, but his mom does it instead. Oliver looks into the eyes of his poor mother as the very life gets sucked out of her and she dies.
In the final moments of Come Play, Oliver's dad is confirmed to be alive and well as he walks down the stairs and sees his son laughing in the dark. Oliver is playing with the "ghost" of his mother, so to say, instead of Larry now. She seems to have entered the dimension that Larry lived, which he could see through the use of technology such as his mobile tablet. If you remember the sketch the family made, if you place one piece of paper in front another piece of paper with a sketch, you wouldn't be able to see the drawing beneath. But through the use of technology, it's as if Oliver has placed the two pieces of paper up to a lamp, revealing the sketch underneath. Except, now his own mother is part of this unseen world.
How Oliver Finally Makes A Friend
Ok, so why did this happen? In my own interpretation of Come Play, the ending is a haunting bittersweet one that puts the nail in the coffin about the messages the film is communicating to us throughout its runtime. Oliver as a central character is having trouble with communicating and connecting with others. He uses his tablet to watch Spongebob Squarepants and escape from his troubled world where he is being bullied and cast out due to his struggles with speaking and his autism. His family is trying to bridge the gap, but there are growing pains as the couple deals with their own conflicts within their relationship as well.
The monster of Larry symbolizes Oliver finding a friend in technology and how it starts to come between his life in the real world. In the lore created on screen, Larry lives in its own dimension that can be accessed through technology and finds a way to break out into his own so he can bring Oliver into his world and they can play together. But since Oliver's mom goes with Larry, she becomes part of this "blue light" world as I like to call it and he gets to live. In a way, by Sarah dying she gets her wish of being able to really connect with her son. As she dies, it's the first time she gets to look her son in the eyes and through the scary situation, Oliver finally says his first words in front of her. Like I said… it's super bittersweet.
How Gillian Jacobs And John Gallagher Jr Weigh In
After having my own reading of the film, I wanted to see how the actors at the center of the story thought out the ending when interviewing them. It was surprising to hear the cast didn't openly discuss the deeper meaning of the conclusion… But then again, I'm one to dissect movie meanings and plot lines to no end, and that's not everyone's drink of choice. In the words of Community star Gillian Jacobs:
Much like the audience, Gillian Jacobs was particularly taken aback by the ending of Come Play, but the mechanics of the ending wasn't necessarily spelled out for the actress that would give her any leg up from our own interpretation of the film. When opening up the conversation to John Gallagher Jr about whether he though Larry had nefarious motivations, here's what he told us:
Gallagher, who previously worked with Mike Flanagan as the villain in Hush, compared Larry to the likes of famous Universal monsters, who are obviously terrifying and do horrible things in their appearances, but don't necessarily have evil intentions. Perhaps Larry is a parallel to Oliver, both trying to reach out and connect but coming from two different planes of existence.
Writer/Director Jacob Chase Explains His Motivations For Larry
And, finally to the mind behind Come Play himself Jacob Chase. The writer/director developed the idea for the story first as a short in 2017 called Larry. Check it out below:
The monster has certainly come a long way since the five-minute creepy short introducing him, including the character's design. When speaking to Jacob Chase about his intentions for the creature of Come Play and balancing the messages being displayed on screen, here's what he said:
Come Play certainly makes one give a side eye to one's phone before picking it up and therefore does its job. Did you like the ending of the movie? Vote in our poll below and check out what other scary movies are coming through to 2021.
This poll is no longer available.
YA genre tribute. Horror May Queen. Word webslinger. All her writing should be read in Sarah Connor's Terminator 2 voice over.
Your Daily Blend of Entertainment News
Thank you for signing up to CinemaBlend. You will receive a verification email shortly.
There was a problem. Please refresh the page and try again.