The Best Horror Movies Available To Stream For Free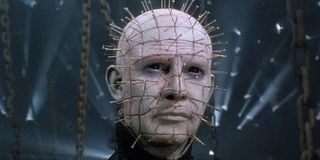 Sometimes, the scariest titles in cinema (such as found footage favorites Cloverfield, Gore Verbinski's startling thriller The Ring, and even a few chilling classics starring Kevin Bacon) are still nothing compared to the terrifying prices most streaming platforms charge you per month, or worse - just for a one-time rental. Fortunately, the films I mentioned above are actually among some the greatest horror movies streaming for free right now.
Before you click out of here in disbelief, I promise you that this is no Halloween trick, but merely a way to clue you into a pleasant treat - for horror fans, at least. Believe it or not, there are many digital platforms (such as Tubi, Vudu, and IMDb TV) that offer a wide, wide variety of movies available to stream at no cost to you, as long as you are willing to endure a few paid advertisements. The horror selection of these services, in particular, is overwhelming in both quantity and in quality alike.
To help you avoid the insanity of scrolling and scrolling in the endless search of a good scare, I have done all the work for you and picked out what I believe are the best in horror (from recent achievements to timeless classics) that will not cost an arm or leg to stream during the spookiest of seasons (or any time of year while they last). It was no easy feat, but I have managed to narrow down the selection to just 16 ghastly greats, starting with the birth of the modern zombie movie.
Night Of The Living Dead (Tubi, Vudu)
In 1968, co-writer and director George A. Romero introduced to the world the most terrifying concept imaginable: being torn apart and eaten alive by your own peers, friends, and family. Night of the Living Dead is a historic moment in horror cinema for establishing the rules of reanimated corpse invasions, casting Duane Jones as the genre's first black lead protagonist, and proving to the mainstream that even the most revolting stories often reserved for throwaway B-movies can incite powerful social commentary by reflecting the dark side of human nature through creatures of the undead.
Stream Night of the Living Dead on Tubi here or on Vudu here (opens in new tab).
The Ring (IMDb TV)
Director Gore Verbinski also made history in 2002 by proving that American horror remakes actually can be as good as their foreign-language predecessors. Indeed, I would argue that The Ring, starring Naomi Watts as a journalist investigating a string of mysterious deaths linked to a strange videotape, is the prime example of that rarity for its masterfully bleak and mercilessly creepy execution of Koji Suzuki's novel that was previously adapted into the 1998 Japanese classic Ringu.
Stream The Ring on IMDbTV here.
The Texas Chainsaw Massacre (Tubi, IMDb TV)
Most horror aficionados would agree that none of the many remakes, reboots, and retcons of writer and director Tobe Hooper's 1974 nightmare transferred to celluloid have ever come close to recreating the same effect. That could be because The Texas Chainsaw Massacre, in which twenty-somethings fall prey to a cannibal with a soft spot for power tools, is a rare kind of slasher that successfully invokes a thoroughly traumatic experience despite running surprisingly low on moments of genuine gore.
Stream The Texas Chainsaw Massacre on Tubi here or on IMDb TV here.
The Descent (Tubi, IMDb TV)
On the other hand, this 2005 hit about a group of women on a caving expedition that goes horribly wrong does not pull many punches when it comes to gore. Yet, if you ask me, the true secret as to why Neil Marshall's The Descent sticks with you long after it ends is not the carnage or its creature feature bliss, but the mere idea of being trapped deep underground in dark, unexplored territory.
Stream The Descent on Tubi here or on IMDb TV here.
Stir Of Echoes (Tubi, IMDb TV)
Claustrophobics need not worry about suffering any feelings of entrapment while watching Stir of Echoes, a 1999 adaptation of Richard Matheson's novel from writer and director David Koepp. However, trapped (mentally speaking, that is) is how Kevin Bacon's character, Tom, feels after an innocent receipt of hypnosis from his sister-in-law causes him to see a visions of young dead girl in this amusing ghost story.
Stream Stir of Echoes on Tubi here or on IMDb TV here.
Hellraiser (Tubi)
Clive Barker became one of biggest names in terror with his 1987 directorial debut, based on his novella The Hellbound Heart, with credit owed to Doug Bradley as the iconic antagonist who would come to be known as "Pinhead." Yet, the unforgiving, inter-dimensional being and his ghastly band of Cenobites only have about eight minutes of screen time in the original Hellraiser, which, at is core, is really an absorbing parable of tragic romance wrapped up in a gruesome fantasy with amazing practical effects.
Stream Hellraiser on Tubi here.
Splinter (Tubi)
The only thing more compelling than the surprisingly good special effects of this 2008 low-budget hidden gem (other than the solid acting) is its script. A clever twist on the zombie genre with ruthless body horror elements, Splinter follows a young couple (Paulo Costanzo and Jill Wager) and an escaped convict (Shea Wigham) forced to barricade themselves in a rundown convenience store from a strange parasite that takes full bodily control of whoever it attaches itself to.
Stream Splinter on Tubi here.
The Faculty (Vudu)
The plot of this cult favorite that reimagines Invasion of the Body Snatchers as a John Hughes drama is similar to Splinter in how it involves a group of mismatched teens at war with a parasitic alien turning their teachers into murderous, hydrophilic zombies, basically. From Scream writer Kevin Williamson and director Robert Rodriguez, The Faculty is a fun, cheesy B-movie that captures 90s teen angst better than any cosmic horror in history.
Stream The Faculty on Vudu here (opens in new tab).
Starry Eyes (Tubi)
"Fun" and "cheesy" are words I would never in a million years use to describe this treacherous cautionary tale from 2014, but that is exactly what makes it a masterpiece of modern horror, in my opinion. Doctor Sleep's Alex Essoe gives a magnificent performance as an aspiring actress who will do anything to achieve her dream in Starry Eyes: a unique, unfiltered blend of 80s-style body horror and satanic panic that eventually earned Kevin Kölsch and Dennis Widmyer the job writing and directing 2019's Peter Sematary remake.
Stream Starry Eyes on Tubi here.
The Void (Tubi)
Speaking of '80s-style body horror, writer and director duo Jeremy Gillespie and Steven Kostanski revitalized the essence of that era of cinema in 2016 with The Void. The story of an understaffed hospital overrun by otherworldly creatures, brought to life with passionately designed practical effects, honors the legacies of both H.P. Lovecraft and John Carpenter.
Stream Stream The Void on Tubi here.
Cloverfield (Tubi)
You can certainly find traces of H.P. Lovecraft (particularly from his most iconic creation, Cthulhu) in Cloverfield, which depicts the destruction of a Godzilla-like beast through the eyes of young New Yorkers struggling to survive. While it is arguably more famous for its inventive marketing campaign and helping bring the found footage trend back to the mainstream in 2008, fans still recognize Matt Reeves' breakout directorial effort from producer J.J. Abrams as an emotionally absorbing, character-driven drama that puts a refreshing spin on the typical monster movie.
Stream Cloverfield on Tubi here.
Hell House LLC (Tubi)
Probably my all-time favorite found footage horror film is this low-budget (but highly rewarding) 2015 mockumentary exploring an infamous haunted house attraction and the unexplained mysteries behind its tragic opening night. The first in a trilogy (the rest of which are exclusively available on Shudder), Hell House LLC is a brilliant exercise in slow-burn suspense that, instead of teasing you with hollow jump scares and cheesy cliches, will have you paralyzed with lasting, unmitigated dread.
Stream Hell House LLC on Tubi here.
Antrum: The Deadliest Film Ever Made (Tubi)
For those who just cannot deal with movies that rely on the queasy-cam, I would recommend Antrum: The Deadliest Film Ever Made, a quasi-found footage thriller of sorts framed as a long-lost copy of a movie no one has seen and lived to tell about, bookended by interviews exploring its notorious legacy. Even if the "cursed movie" gimmick does not phase you at first, the creepy 1970s-style film within a film about a boy (Rowan Smyth) and his older sister (Nicole Tompkins) digging a hole to Hell does a pretty good job making you feel like you are watching that should not be seen by human eyes.
Stream Antrum: The Deadliest Film Ever Made on Tubi here.
Suspiria (Tubi)
The majority of this atmospheric, supernatural fantasy from Giallo pioneer Dario Argento is actually quite pleasing to the eyes with a colorful production design unusual for a horror movie, but quite fitting for its story of a prestigious, German ballet academy with a devious secret. In fact, the aesthetic is one of the top reasons I would recommend the 1977 original Suspiria over Luca Guadagnino's stylistically bland and narratively perplexing 2018 remake, personally.
Stream Suspiria on Tubi here.
Nosferatu (Tubi)
One remake, that I am cautiously intrigued by, though, is a forthcoming reimagining of Nosferatu from Robert Eggers, the writer and director of the sharply grim The Witch and boldly weird The Lighthouse. My curiosity is purely in seeing how he intends to reinvent F.W. Murnau's silent, 1922 adaptation of Bram Stoker's novel Dracula, which I still believe, especially for Max Schreck's alarming devoting to the role of Count Orlok, is the finest vampire film ever made.
Stream Nosferatu on Tubi here.
Tales Of Halloween (Tubi, IMDb TV)
A good way to end a creepy, distressing movie binge such as this is with a fun horror comedy, which there is an impressive variety of in 2015's Tales of Halloween. What I admire about this lesser-known collection of stories all taking place on October 31st (featuring The Descent director Neil Marshal and others at the helm) is that, while many horror anthologies start off strong before suffering a decline in entertaining quality, this one only gets better with each segment.
Stream Tales of Halloween on Tubi here.
What do you think? Would you agree that these are the finest films of the genre that you can find for the killer price of $0, or is that the only price you would be willing to pay to sit through any of these titles? Well, if you happen to agree with the latter, I would be more than happy to hear an explanation in the comments. Also, be sure to check back for additional information and updates on the legacy of the horror genre, as well as more of our own recommendations of the scariest movies and TV shows currently available to stream, here on CinemaBlend.
Your Daily Blend of Entertainment News
Jason has been writing since he was able to pick up a washable marker, with which he wrote his debut illustrated children's story, later transitioning to a short-lived comic book series and (very) amateur filmmaking before finally settling on pursuing a career in writing about movies in lieu of making them. Look for his name in just about any article related to Batman.