Charlie Hunnam Gets Honest About James Bond Casting Rumors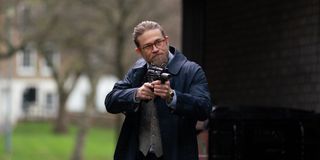 It's still going to be a while before we get to see Daniel Craig's swan song performance as James Bond (Thanks, COVID). But that sad fact hasn't put a stop to speculation about who will take the reins as the new 007 when the beloved franchise begins its next phase. One name that gets thrown around a lot is Charlie Hunnam -- so much so, in fact, that the actor has actually addressed the rumors that he could be the next James Bond.
Being cast as James Bond is the kind of career moment that changes your whole life, there's no denying that. So it's understandable why any actor whose name gets thrown into the ring would be on high alert. However, it sounds like Charlie Hunnam may be taking a realistic approach to the speculation that's named him a leading contender to portray Britain's most infamous spy. He recently told People:
It seems like he's taking both a humble and a healthy approach to the rumors -- acknowledging how cool it would be to play James Bond, while also recognizing the reality of the situation. Although we have no real way of knowing who the Bond bigwigs are seriously considering, there's one thing we do know: there's a lot riding on the decision.
Charlie Hunnam has a lot of qualities that would make him a great 007. He has a commanding presence on screen, and we learned from his performances in films like The Gentlemen and TV series like Sons of Anarchy that he's capable of being both charming and ruthless.
However, James Bond has seen a lot of incarnations over the years, with each new star bringing a different flavor to the role. Ultimately, who ends up being the next James Bond will depend on a lot of factors, including what direction the Bond creative team wants to take the franchise in next.
Some actors, like Idris Elba, have long been considered top contenders. We know that at one point, Henry Cavill was considered to take over as Bond, but he was deemed too young at the time. Others including Chris Hemsworth, Jude Law and of course Tom Hardy still seem to be fan favorites -- and of course, we can't rule out someone like Lashana Lynch, either.
There is, of course, still a large chance that MGM and Universal will surprise us all when they unveil the new James Bond. No one saw Daniel Craig coming, after all.
Who do you think should play the next James Bond? Let us know in the comments!
Your Daily Blend of Entertainment News