Henry Cavill Throws His Hat In The Ring As New James Bond Remains Uncast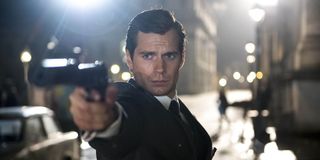 Henry Cavill has performed the rare feat of playing multiple iconic characters, from Justice League's Superman to Enola Holmes' Sherlock. It seems he may have one more that he'd like to cross off his bucket list, too. As the search for an actor to replace Daniel Craig as James Bond continues, Henry Cavill has thrown his name into contention.
In a conversation with GQ, Henry Cavill reminisced about auditioning for -- and nearly nabbing -- the role of James Bond when he was in his early 20s. Obviously, that didn't come to pass, but he told the magazine he'd still be interested in playing the role if the opportunity arose:
The man who's brought both Clark Kent and Sherlock Holmes to life in the past couple of years is far from the first to express interest in playing James Bond -- and, to be fair, he has the credentials and the experience. He's British (duh), and he already proved he can spy with the best of them in 2015's The Man from U.N.C.L.E.
Of course, it's ultimately going to depend on what the creative team behind the James Bond franchise determines is the right next step. In many ways, Henry Cavill perfectly embodies the classic aura of James Bond that many fans are familiar with. But there's been tons of speculation about who could portray the next 007 since Daniel Craig announced he is stepping away from the role -- and the only thing that's certain right now is that no one knows exactly what to expect.
The rollout of No Time To Die, Daniel Craig's last Bond film, has been unfortunately chaotic due to the COVID-19 pandemic. The film is still scheduled to hit theaters this November, after being pushed back multiple times from its original April release date. Thus far, there's no concrete news about the next steps the franchise will be taking, or when the franchise may announce who the next James Bond will be.
Still, that hasn't stopped cinephiles and Bond aficionados from compiling lists of their favorite potential successors. CinemaBlend has "narrowed" it down to a list of 25 likely contenders, including Idris Elba, Tom Hardy, and yes, Henry Cavill. Of course, everyone was surprised when Daniel Craig was cast -- so we may all be shocked when the announcement is eventually made.
Who do you think the next James Bond will be? Who do you want the next James Bond to be? Make your best predictions in the comments!
Your Daily Blend of Entertainment News
Thank you for signing up to CinemaBlend. You will receive a verification email shortly.
There was a problem. Please refresh the page and try again.