007 Odds: Tom Hardy And A List Of Actors You Can Bet On To Be The Next James Bond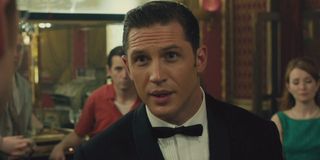 As we crawl another week closer to the formerly planned fall release of No Time To Die, the ever continuing quest to find out who the next James Bond will be is also progressing. Though there's a lot of time on the clock, considering the 25th 007 film and Daniel Craig's final outing filling the iconic tuxedo has been pushed out to next April, just as some folks think they've got the next hot tip on the potential streaming future for No Time To Die, they seem to think that Tom Hardy is absolutely going to be the next Bond. It's a possibility that's even harder to deny with the betting odds in his favor.
But, as any fan will tell you, you can always bet on 007 odds being a rollercoaster of fortunes and emotions. To that end, it's time once again to update the CinemaBlend Betting Lounge with a new look at the top 10 actors who feel like they could be the fresh face of the EON Productions produced franchise. This time around you can thank OddsChecker for the statistical magic we're about to jump into. For those of you who are serious betters in the James Bond betting circle, we wish you the best of luck.
Lashana Lynch
Despite the fact that franchise producer/EON Productions powerhouse Barbara Broccoli has repeatedly said that James Bond will never be a female character, there's still some ladies that wind up in the conversation no matter what. According to the odds you'll find on OddsChecker, one such woman is No Time To Die star Lashana Lynch, who makes up the very bottom of the top 10 field. While that may sound like an insult, it's anything but, as her character in the upcoming movie is a 00 agent, and could very easily have the 007 number assigned to her by time the film starts. One has to wonder if there's a reduced odds payout for partial credit in that very technical respect.
Aidan Turner
We've previously seen Poldark star Aidan Turner turn up in the betting field for the next James Bond, as he's been a perennial favorite for the job. With just enough notoriety to be a constant fixture in the running, but enough of a low profile to allow for some leverage in EON Productions' favor, should they try for a long term contract, Turner has solid footing towards the back of the pack.
Chris Hemsworth/Michael Fassbender/Cillian Murphy
It wouldn't be a James Bond betting pool if you didn't have Michael Fassbender or Cillian Murphy in the mix. Much like Henry Cavill before them (more on him in a second), these two have quite the history with being whispered about as a new on-screen 007. They're currently sitting quite pretty at even odds with a newer prospect who's come up in the ranks: Thor: Love and Thunder star Chris Hemsworth. While we're thinking the Australian actor's Marvel gig will keep him out of the tuxedo for some time, or at the very least the next cycle of Bond films, it's still interesting to see these three all tying for the same role.
Henry Cavill/Jude Law
Depending on who you talk to, Henry Cavill feels like one of those safe and much wanted leads when it comes to the world of James Bond. And much like Timothy Dalton and Pierce Brosnan before him, Cavill is one of those candidates who came close to nabbing the role previously only for one factor or another to get in the way. Though, strangely enough, Jude Law is also a holdover from the Casino Royale days of casting rumors, as he was a prime candidate for the Bond honors himself back in the pre-Daniel Craig days Though, if we were to slip any skin into the game with either of these two (who presently stand at even odds), Cavill would have to be our pick. No offense to Law, but he feels more like a delicious choice for a Bond villain rather than a 007.
Tom Hiddleston/Jack Lowden
Here's an interesting pair for you to consider in sixth place, as both Loki star Tom Hiddleston and Jack Lowden, known for his roles in Dunkirk and Fighting with My Family, are evaluated to be at the same standing. As Hiddleston is another veteran of betting odds past, he's another usual suspect come home to roost. But Lowden's fortunes have risen quite high in recent months, as his name has started to circulate more frequently. This could be a promising sign, especially since Jack Lowden isn't bound by any long term contract gigs that we know of, and he's young enough to serve a long stretch as 007 if he chooses to go that way.
Idris Elba
From here on out, it's nothing but the usual suspects, as some favorites for the role of James Bond are just too hard to shake. While some feel that the undeniably cool Idris Elba has aged out of the role of 007 at 48 years old, there's obviously a lot of people that still want him to be the first James Bond of color. You don't wind up this high up in the betting odds as long as Elba has without strong fan support, and that's something that has to factor into the decision making process for the next lead in this historic franchise.
Sam Heughan
Outlander's Sam Heughan is another one of those huge successes that swept the public off its feet in short and swift order, only to land his Scottish self in the ranks of most popular Bond-worthy actors. It only helps his chances that he's already been cast as a spy that was designed to take down the 007 mythos in comedic fashion, as his role in The Spy Who Dumped Me gave fan art creators a break by putting him in a tuxedo. Could this high ranking dreamboat bring James Bond back to Scotland? Time will tell.
James Norton
Previously this summer, when we took a look at another set of betting odds pertaining to who could be the next James Bond, McMafia star James Norton was the top ranking contestant in the 007 sweepstakes. But like a bad night at Casino Royale, Norton's fortunes have been dashed to a certain extent. He's still hanging out in the top three, at least according to this set of odds, and there is the added advantage that should James Norton get the role of Bond, he'll be able to fall back on being very familiar with his character's name for his entire life.
Richard Madden
While we've seen Richard Madden in recently notable roles such as one of the Stark kids in Game of Thrones, and as his star is about to potentially rise yet again with his part in Marvel's new Eternals film, the six episode series Bodyguard helped put this Rocketman star into heavy rotation on the 007 circuit. Basically playing a James Bond style character in that particular show, Madden continues to be in high contention when it comes to the betting odds to the next Bond, which at the very least could net that particular series a second season. That is, if Richard Madden doesn't end up winning the role of James Bond after all.
Tom Hardy
Still coming in at the top of the food chain is Venom star, Dunkirk actor, and Tinker Tailor Soldier Spy alum Tom Hardy. Folks are still pretty high on Hardy becoming the next Bond, and for the moment his odds reflect that rather nicely. With a wide variety of roles that could feed into the skill set needed to become 007, Tom Hardy isn't a strange candidate, but he's a bit too predictable for the honors. Still, should he be called upon, fans would be able to rest in knowing an established acting talent is in the driver's seat, controlling the ejector seats.
Should the words of Barbara Broccoli maintain their hold, we're probably not looking at any new James Bond casting news until No Time To Die has run its due course. One can't blame Ms. Broccoli's sentiment, as you can tell that she and her EON Productions family are all going to miss Daniel Craig once he leaves the series. Unless the streaming wars heat up to the point where Broccoli and company actually feel like it's worth breaking tradition, you can expect No Time To Die to hit theaters on April 2, 2021. So keep a tab on your browser dedicated to CinemaBlend, as James Bond will return!
Senior Movies Contributor
CinemaBlend's James Bond (expert). Also versed in Large Scale Aggressors, time travel, and Guillermo del Toro. He fights for The User.
Your Daily Blend of Entertainment News
Thank you for signing up to CinemaBlend. You will receive a verification email shortly.
There was a problem. Please refresh the page and try again.