Hulu's Run Ending Explained And Why That Wild Twist Makes Sense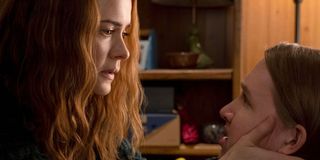 (Image credit: (Hulu))
Run is a rare thriller that keeps one guessing up until the very last frame. Once the credits crawl on Hulu's biggest hit to date, the movie has chased us in circles and backed us into an odd corner. The inner monologue by the Run ending probably looked like: 'Wait… no, that's not how I wanted it to go?' Thus, here we are. Let's breakdown the wild twists at the end of Sarah Paulson's latest memorable role about his spine-chilling 'mother and daughter' movie.
Before we get into how things shook out in Run, are you sure you've seen it? Don't lie! (As if this movie didn't give us enough trust issues, and over the holidays no less). If you've yet to see it, head on over to Hulu (opens in new tab), otherwise mind the Run spoilers ahead. Now settle in for a breakdown of the ending, an in-depth explanation of what went down and what the film's stars think from their own perspectives. On to it:
What Happened At The End Of Run?
What starts as simple suspicion between a college-bound teen and her caregiver mother in terms of a new medication she's been given, spins into the discovery of a lifelong lie the daughter finds out she's been living. The initial clue Kiera Allen's Chloe uncovers is that a green pill she is being prescribed that her mom (Sarah Paulson) has placed under her name and covered up is actually canine muscle relaxants. Following Chloe's discovery, Diane locks her daughter in her room with a gardening tool. Chloe finds a way to break out of the house, but one poor mailman casualty later, she ends in the basement of her home chained up.
It's there where Chloe learns that she is not the biological daughter of Diane. Chloe was a healthy baby who was stolen from the crib after Diane lost her own child after giving birth prematurely. As we can see in a photo from Chloe's childhood, she was capable of walking on her own as a kid. Her 'mother' has therefore been giving her medication to give her the disabilities and medical conditions she was living with daily. Along with being wheelchair-bound, her condition includes clearing her throat each morning and applying lotion to rashes she has all over. In a last effort to save herself from mommy dearest, Chloe drinks a toxic chemical forcing Diane to take her to the hospital.
The Twist Of Hulu's Run, Explained
Although it all cuts very close, Chloe's plan at the hospital works. While Diane attempts to escape with her daughter back to their isolated home, she gets cornered by hospital police, is shot and falls down a flight of stairs at the scene. Run then cuts to seven years later at the Belfair Corrections Center For Women. Chloe still uses a wheelchair, but is able to walk a little bit with a cane for the security check. It looks like she has gotten married by her wedding ring on her left hand and has been working with a trainer to improve her walking capabilities.
She is there to visit a bed-ridden Diane and tells her about her young child who is currently learning to walk and clues the audience in that she also knows her own biological parents. It sounds like she got to go to the University of Washington after all, works with kids and overall has a happy life. But, somehow she's still here visiting her lifetime abuser and calling her mom. She has a round of pills hidden in her mouth. She tells Diane she loves her and to "open wide" just before the credits roll. Uh… what? Chloe, sweetie, just move on with your life!
It's a twisted ending. The story ends in revenge long after the events of the film. Chloe has not moved on, emotionally anyway. She visits her once a month to torture her with her life outside their isolated world she created and gives her the same muscle relaxers that still plagues her life today.
Why The Ending For Run Actually Makes Sense
Run is secretly a great example of the age-old psychology debate, nature vs. nurture. Although Chloe is not biologically related to Diane Sherman, she spent her whole life under her household, therefore no discovery about her actual lineage could mend a lifetime of learning and psychological and physical damage. Chloe grew up in a possessive household and therefore her turning the tables on her mom makes a lot of sense. Not to mention how it may actually strangely serve as an act of love to Diane, since it was how she thought she was doing the best for her daughter, in her own messed up way.
What Diane did to Chloe is an actual mental health problem and form of abuse called Munchausen Syndrome by proxy that is characterized by a caregiver lying about one's symptoms, changing test results to make them appear ill and physically harming them to produce symptoms, per University of Michigan. It famously played out to Gypsy Rose Blanchard by her mother Dee Dee Blanchard, who was led to believe that she could not walk, had cancer and even underwent a series of surgeries as well. Gypsy Rose convinced her boyfriend to murder her mother after they correctly suspected what her mother had been doing to her since she was a child. The Gypsy Rose story was told with a 2017 HBO true-crime documentary and through the Hulu show with The Act. Not comparing blatant fiction with fact here – just for context, the story of Run isn't pulled out of complete obscurity.
How Sarah Paulson And Kiera Allen Explain The Run Ending
Before we leave you to swallow the big pill that is Run's conclusion, let's dive into what the stars of the movie think about how the movie ended things. Sarah Paulson was asked by Collider if she believes the story would have been different for Diane if she had raised her own daughter. Here's what the American Horror Story actress had to say:
Sounds about right. As we've seen, Munchausen Syndrome by proxy does not discriminate between the biological and non-biological. That aspect of the story not only adds to the twists and turns of Run, but also allows Chloe to have some form of happy ending at least. Kiera Allen, who is a wheelchair-user in her own life as well talked about Chloe's ending to Decider with these words:
Allen also said that she believes that Chloe is de-compartmentalizing all her trauma into one person in her life, Diane, and believes that's how Chloe justifies turning the abuse over to her.
Welp, what a movie! What did you think of the ending? Sound off in the comments below and check out what's coming next to Hulu this December.
YA genre tribute. Horror May Queen. Word webslinger. All her writing should be read in Sarah Connor's Terminator 2 voice over.
Your Daily Blend of Entertainment News
Thank you for signing up to CinemaBlend. You will receive a verification email shortly.
There was a problem. Please refresh the page and try again.