Hulu's The Act Director Talks Gypsy Rose And Nick's 'Meet-Cute' And Adapting Unlikable Characters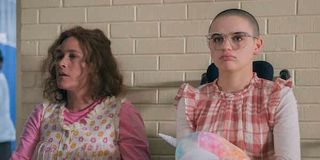 Major spoilers below for Hulu's The Act, so be sure to watch before reading on.
In the latest episode of Hulu's The Act, viewers watched Joey King's Gypsy Rose begin to embrace her sexuality and maturity in ways that nearly gave Patricia Arquette's Dee Dee a nervous breakdown. Things will soon only get worse for Dee Dee, too, now that Gypsy and her disturbed future-suitor Nick (Calum Worthy) have met and are in constant communication with one another.
Christina Choe, the director of "Stay Inside," spoke with CinemaBlend about bringing these two uniquely star-crossed lovers together, and what it means for the once-innocent Gypsy Rose.
Indeed. Though Dee Dee wrongfully tried to take AnnaSophia Robb's Lacey down a peg by blaming her for talking to Gypsy about sex and boys, the teen neighbor probably would have been a far better influence in the long run. After all, Gypsy didn't learn anything salacious from their chat, and it was her unbridled adventures online that truly unlocked her vast curiosity, sending her down a far different rabbit hole than the one Alice discovered.
Not that Nick is the most innocent of influencers in Gypsy's life, considering his admission to having a darker and potentially violent personality lurking beneath his outer shell. But Gypsy is the one having that sordid fantasy sequence in the end, since she's a powder keg of libidinous impulses, being years more mature than she'd been led to believe all her life.
Here, Christina Choe talks specifically about Calum Worthy and how The Act bucked the norm with Nick and Gypsy's first chat.
It's almost strange to think about how much groundwork for Gypsy and Nick was laid out in Episode 4. First, Gypsy conned her mom into getting a mall massage while she went and bought a small laptop, which she used for social media means. She and Nick pretty much instantly fell for each other after they started chatting, with him playing into her princess fantasies.
Donning a wig and leaving her glasses off, Gypsy is playing a role just like she does whenever she's with Dee Dee, only this is the personality that Gypsy would much rather embrace. Neither one is very honest, but Gypsy's intentions here are far less savage and unfairly advantageous than the way Dee Dee constantly aims to milk people for sympathy.
Dee Dee, who learned of her own health problems in the episode, won herself no sympathy after going berserk upon discovery Gypsy's secret device. She smashed the laptop with a hammer and then attempted to punish Gypsy by tying her to her bed. Dee Dee's attempts fell flat after Gypsy spit directly into her mother's face, which was the straw that broke the camel's emotional core. (Patricia Arquette's dismay in that scene was palpable enough to leave a mark on the screen.)
Interestingly enough, one of actor Calum Worthy's rehearsals for director Christina Choe was done via Facetime. (While I thought it was an interesting way to handle a role that involved scenes on a webcam, Facetime was a necessity since Worthy and Choe were on different sides of the country.) Here, Choe explains how that rehearsal was used to work on the real-world Nick Godejohn's developmental disorder.
As it's probably been made clear over the first four episodes of The Act, showrunners Michelle Dean and Nick Antosca are not concerned with giving audiences a television series that's filled to the brim with lovable characters that ooze charm and charisma. This story is based on real events, and while lots of moments within The Act are necessarily dramatized, the confirmed facts behind the Blanchard family's history are more than enough to temper expectations for heroic characters to save the day.
In fact, Christina Choe directly mentioned having conversations with Patricia Arquette about that balancing act. In her words:
For all that Joey King's Gypsy Rose does get score points with audiences simply for being Dee Dee's unwitting victim for so many years, she's also constantly dishonest and manipulative. So it's perfectly fine for viewers to not feel altogether comfortable with her, either. Especially not after catching a glimpse of what her fantasy world is like. (Let's not think too hard about Gypsy's mental connection between being tied up by her mom and Nick.)
To Christina Choe, presenting pleasurable characters isn't as important as presenting believably realistic characters. Here, she talks about how Dee Dee can be guilty of doing the most heinous shit, but it works so long as Dee Dee herself fully believes that they are acts of love and motherhood. According to Choe:
Critics have been quite kind to The Act, including yours truly, so there are definitely people out there who found ways to understand Dee Dee and Gypsy Rose Blanchard without vilifying or condemning them. What about you guys?
The Act airs new episodes on Hulu (opens in new tab) every Wednesday at 12:01 a.m. PT.
Assistant Managing Editor
Nick is a Cajun Country native, and is often asked why he doesn't sound like that's the case. His love for his wife and daughters is almost equaled by his love of gasp-for-breath laughter and gasp-for-breath horror. A lifetime spent in the vicinity of a television screen led to his current dream job, as well as his knowledge of too many TV themes and ad jingles.
Your Daily Blend of Entertainment News
Thank you for signing up to CinemaBlend. You will receive a verification email shortly.
There was a problem. Please refresh the page and try again.