How Mank's Tom Pelphrey Approached Playing A Hollywood Icon Before They Became Iconic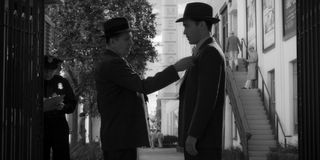 When an actor is cast to play an icon in a Hollywood biopic, the general expectation is that said icon is going to be featured at the hight of their powers – with the movie presumably wanting to capture their life during the most compelling years. There are exceptions, however, with one being cases where an icon is featured only as a supporting character in another important figure's story. It's a strange situation, but also an interesting summation of the situation faced by actor Tom Pelphrey in the making of David Fincher's Mank.
In the new Netflix movie, the Iron Fist actor plays Joseph Mankiewicz, a man recognized as one of the all-time great American directors, but it also happens to be a story that is entirely set in the years before he took the helm of his first film. Instead, the feature puts all of its focus on Joseph's older brother, Herman Mankiewicz, and his journey writing the script for Orson Welles' Citizen Kane, rendering the younger sibling a side character in the tale. It created a strange challenge for Tom Pelphrey, which we discussed during the Mank press day last month – our interview featured in the video at the top of this article.
For those who don't know about Joseph Mankiewicz, the filmmaker spent the 1930s as a studio screenwriter, but by the 1950s he became one of the most prominent directors in the industry. In 1949 and 1950 he became one of the only filmmakers in history to win Academy Awards in consecutive years – winning both Best Adapted Screenplay and Best Director for A Letter to Three Wives and All About Eve – and he made two of the mid-century's most famous epics: 1953's Julius Caesar starring Marlon Brando, and 1963's Cleopatra starring Elizabeth Taylor.
That was all big stuff that Tom Pelphrey had to put aside in his mind, however, because all of that happened after the time period captured in Mank – which primarily chronicles Herman Mankiewicz's Hollywood experiences during the 1930s (his first scene actually features another character remarking that they didn't even know Herman had a younger brother). Fortunately, Pelphrey wasn't left totally flummoxed by the situation because he was given proper resources, namely author Sydney Ladensohn Stern's book The Brothers Mankiewicz: Hope, Heartbreak, and Hollywood Classics. The actor told me,
It's a funny case of timing, as Sydney Ladensohn Stern's came out the first week of October in 2019, and Mank began filming almost exactly one month later – evidently providing Tom Pelphrey will all of the time he needed to learn about the pre-fame Joseph Mankiewicz – and it pays off in his performance.
If you haven't already had a chance to see Mank up on the big screen, the goods news is that it won't be much longer until it arrives right in your living room. Following its theatrical release last month, the David Fincher film starring Gary Oldman will be hitting Netflix at the end of this week – specifically Friday, December 4 (opens in new tab). Be sure to check it out, as it's one of the best films of the year, and stay tuned here on CinemaBlend for more from my interviews with members of the cast!
NJ native who calls LA home; lives in a Dreamatorium. A decade-plus CinemaBlend veteran; endlessly enthusiastic about the career he's dreamt of since seventh grade.
Your Daily Blend of Entertainment News
Thank you for signing up to CinemaBlend. You will receive a verification email shortly.
There was a problem. Please refresh the page and try again.