After Wonder Woman 1984 Hits Its First Big Box Office Milestone, Patty Jenkins Thanks Fans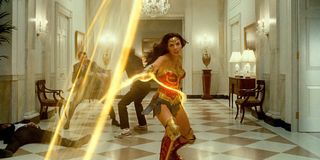 Wonder Woman 1984's journey to the big screen was no easy feat. With numerous delays and a pandemic to contend with, some fans probably felt like they'd never get a chance to see the movie. But despite all these obstacles, Wonder Woman 1984 has already hit a major box office milestone -- and director Patty Jenkins was quick to thank fans for their support.
Deadline recently reported that Wonder Woman 1984 had officially banked $100 million at the worldwide box office. Patty Jenkins shared the article with her followers on Twitter, along with a grateful message:
Patty Jenkins' tweet is a perfect reminder of numerous factors that went into Wonder Woman 1984's chaotic release. Originally scheduled to hit theaters in June, it was pushed back to due to COVID-19. Eventually, Warner Bros. chose to release the movie simultaneously at movie theaters worldwide and on HBO Max.
According to Deadline, the bulk of the revenue came from countries outside the United States and Canada, where more than half of movie theaters are currently shut down. While the US is still seeing an increase in COVID-19 cases, other parts of the world have been able to get the pandemic under control. In those places, it's much more common for fans to head to movie theaters.
In pointing out that fans are renting out theaters in order to view the film safely, she's highlighting this unique scenario while also subtly advocating for the continued existence of movie theaters. This has become a hot topic since Warner Bros. announced they will be releasing several high-profile projects on streaming platforms this year.
Patty Jenkins has also been open about how Wonder Woman 1984's release strategy will affect the film's success from a financial standpoint. She said that they had to make the decision to "give up the money" in order to make sure the film could be enjoyed by fans. In truth, the numbers are telling: in 2017, Wonder Woman made over $100 million in its first weekend in the United States alone.
Still, cracking $100 million worldwide in the midst of a pandemic that has shuttered movie theaters and kept fans at home is nothing to scoff at. Wonder Woman 1984 has also seemingly done impressive numbers in its streaming run -- a good sign that the film found an audience outside of movie theaters as well.
It's hard to guess what the world will look like if and when Wonder Woman 3 premieres -- but it seems likely that no matter what, there will still be plenty of fans ready and waiting to support it.
Your Daily Blend of Entertainment News
Thank you for signing up to CinemaBlend. You will receive a verification email shortly.
There was a problem. Please refresh the page and try again.