Sounds Like Mortal Kombat's Fatalities Will Be Super Important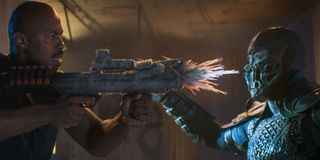 Mortal Kombat is known for many things by video game fans, from its awesome and powerful characters to its sweet battle settings. Of course, what probably stands out the most to the MK faithful are the heavily stylized (and violent) fighting moves, particularly the Fatalities. These are, of course, the brutal finishing moves performed by a combatant to end a fight. While 1995's Mortal Kombat held back somewhat when it came to delivering game-accurate Fatalities, the upcoming reboot will do no such thing. With this, the director has opened up about why they're so important to the film and the franchise as a whole.
Mortal Kombat director Simon McQuoid recently opened up about the use of Fatalities in his new film. He also recalled how the studio reacted to his desire to maintain the gore-infused integrity of the finishing moves:
Based on Simon McQuoid's recent comments to IGN, Warner Bros. had no problem with him including the ultra-violent Fatalities in Mortal Kombat. It's good to hear this was the case, as the filmmaker likely viewed it as a major vote of confidence from the studio when it came to his vision.
The first images of Simon McQuoid's Mortal Kombat were plenty exciting for many fans, but some probably still needed to be convinced of the film's authenticity. Well, the trailer may have definitely helped with that. The footage was filled with a number of brutal and beautiful moments. From Major Jackson "Jax" Briggs getting his arms ripped off by Sub-Zero or Kano tearing out a creature's heart, there were numerous moments that proved how far the movie is going.
Ahead of the film, one of the biggest questions surrounding the film was it's rating, as it was unclear as to whether it would have a PG-13 rating like its 1995 predecessor. Simon McQuoid eventually eased concerns, saying that he and the producers found the balance between blood and gore. For a taste of what McQuoid and his team cooked up, you can check out the first official trailer down below:
Video games haven't had the best track record when it comes to big-screen adaptations. Nevertheless, Simon McQuoid's passion for the Mortal Kombat franchise is enough to give fans hope for the movie.
And while some will probably continue to have concerns about other elements of the movie, they can, at the very least, take comfort in the fact that the film appears to be just as violent as the games they've grown up with. It'll be interesting to see how things pan out for this cinematic iteration of the iconic fighting series.
Mortal Kombat is set to be released in theaters and on HBO Max on April 16, 2021.
Covering superheroes, sci-fi, comedy, and almost anything else in film and TV. I eat more pizza than the Teenage Mutant Ninja Turtles.
Your Daily Blend of Entertainment News
Thank you for signing up to CinemaBlend. You will receive a verification email shortly.
There was a problem. Please refresh the page and try again.