7 Brutally Beautiful Moments From The Mortal Kombat Trailer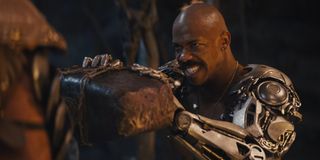 CinemaBlend participates in affiliate programs with various companies. We may earn a commission when you click on or make purchases via links.
The day has finally arrived and now the world can finally start talking about how awesome director Simon McQuoid's Mortal Kombat reboot looks. While it was being teased as an R-rated return to form for the previously adapted Midway gaming franchise, this first look only hammered home just how promising Warner Bros and New Line's great big reboot truly is. And it's not only an absolutely brutal red-band trailer, it's also a beautiful sight to behold. In fact, seven moments in particular embody both the beauty and the brutality that Mortal Kombat is ready to dish out.
Before we get too far though, it's probably a good idea to take another look at the Mortal Kombat trailer for yourself. While we're going to have proper screencaps of these impressive slices of action below, there's nothing that replaces the adrenaline rush of seeing it all in living, breathing action. So get another gander at that beautiful beat 'em up action. Or if this is your first time watching, prepare for Kombat.
Are you ready? I'd assume you're absolutely jazzed for Mortal Kombat action, and you've probably got some favorite moments of your own ready to go. If we happen to miss some of those special moments that really got you to cheer "FINISH THEM," don't hold back! Hit up the comment section at the end, and let us know what made you smile, made you think, or even made you mad. For now, let's get back to the celebration, and start at the beginning.
Sub-Zero's Shotgun Slushie
We all know that Sub-Zero (Joe Taslim) has some of the most awesome powers in the Mortal Kombat universe. If you could freeze anything and everything into solid ice, that's a pretty great advantage in life. But showing off those ice powers is where those sorts of forces really count, and watching Sub-Zero freeze a shotgun blast in mid-explosion is pretty damned neat. All of those little bearings, frozen in time, heading towards Mr. Zero's curious face, makes a huge first impression.
Jax's Farewell To Arms
If Mortal Kombat was an infomercial, Sub-Zero would probably be one of its star products. Not only can he make objects out of frozen ice, and freeze firearms as they're discharged… he can also ice organic matter. That's a lesson that Major Jackson "Jax" Briggs (Mehcad Brooks) learns the hard way, as his tangle with this cold-blooded warrior sees him enduring a massive injury that leads to the introduction of his iconic bionic arms. This shows Mortal Kombat's slightly different spin on video game canon. It's also incredibly brutal to watch Jax's old arms shatter apart, but revenge will probably be in the cards at some point in the future.
Scorpion's Origins Revealed?
Yes, there's a lot of brutal moments in this Mortal Kombat trailer, and that's to be expected from the word "Fight." But there's also beauty in the kombat, as we see in what looks like a flashback sequence involving Hanzo Hasashi (Hiroyuki Sanada) before he adopts his fan favorite persona of Scorpion. Even the origins of his long range blade attack are depicted, as Hanzo wipes the floor with the enemies that surround him at his home. Already the fight choreography of Mortal Kombat looks insanely impressive, and the visual scope of these sequences swings back and forth between opening up to wider pastures and closing in on more close quarters combat.
Mileena Does Some Cleanup
Of course, the community enjoying the Mortal Kombat reveal is going to have some preliminary gripes. The very first one we've seen take hold is the fact that Mileena (Sisi Stringer) doesn't have enough teeth protruding from her facial scars. To be honest, this is something that just might be saved as a reveal for the film proper, but Mileena's fans don't walk away empty handed when it comes to her being awesomely cruel. The lady knows how to maintain her sai, as we see her lick the blades clean after some bloodletting. We might not get her totally killer smile just yet, but oh wow, does she make up for it with this nasty but polite snippet. Let's all look to leave our weapons a little cleaner than when we drew them.
Scorpion v Sub-Zero: Dawn Of Hell Yes!
One of the most memorable rivalries/pairings throughout the Mortal Kombat series has been that of Scorpion and Sub-Zero. When dropping a trailer for your latest interpretation of this franchise, it's probably a good idea to show these two fighting it out at some point, and Mortal Kombat delivers on that promise in exemplary fashion. We've got a "Get over here!" moment of dialogue, that closed quarters fighting style that mimics the look of the actual game. And in a detail that seals the deal, we see Sub Zero doing his ice thing and making a blade… forged from Scorpion's own blood.
"FINISH THEM!"
While it looks like Mortal Kombat is hiding a nice little sequel easter egg in plain sight, Chin Han's Shang Tsung is big bad this time around. And you certainly couldn't create a perfect rundown of this franchise's greatest hits without the phrase that truly pays: "FINISH THEM!" If they left the trailer to close on that note, that would have been enough, and I'd have paid for my ticket right then and there. Which is why the fact that an uber-bloody montage of carnage filled quick cuts follows this battle cry just makes it all the more heartwarmingly sadistic. They aren't kidding with this movie, folks.
"Kano Wins."
Oh Kano, you beautiful bastard you! Josh Lawson's incarnation of this red eyed psycho looks like it's going places that even Mortal Kombat itself is excited to see. Not only do we get to see him tear the heart out of a creature of some sort in the big reveal trailer, but we also get him throwing in a nice reference to the ring announcer that lets us know who's won the match. As if you needed to be told, Kano's the winner this time, baby; and his quick, fowl mouthed humor looks like it's going to make him a fighter to rival the similar cockiness of one Johnny Cage. He knows the way to the audience's heart, and it's through his opponent's rib cage.
Mortal Kombat is ready to play, and it's something that only the coldest hearts can turn away from. 26 years after Paul W.S. Anderson helped the series make a solid cinematic debut, Simon McQuoid looks like he's driven another tentpole into the ground for the bloodiest show in the Outworld. April 16th feels torturously far from this moment, but at least there's a bright side to that wait: we'll all be nice and warmed up for the ring after Godzilla vs. Kong hits HBO Max on March 31st.
Now that is a double feature to look forward to, and it's one you'll be able to enjoy one of two ways. If you feel safe enough to head out to theaters, you could always see Godzilla vs. Kong and Mortal Kombat in a theatrical double feature. Or, if you're more inclined to have ringside seats for both clashes on your own comfortable couch, HBO Max will have both films for the first 30 days of their release window. If you're a subscriber, all you have to do is wait; but if you're not in the game just yet, you can subscribe to HBO Max with their special offer of a discounted subscription, prepaid for six months. You don't need to have a tragic backstory to know that this is a pretty sweet deal.
This poll is no longer available.
Your Daily Blend of Entertainment News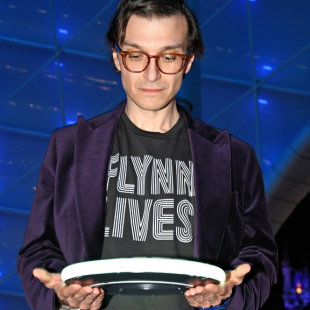 Senior Movies Contributor
CinemaBlend's James Bond (expert). Also versed in Large Scale Aggressors, time travel, and Guillermo del Toro. He fights for The User.