John Cena's Suicide Squad Character Got A Christmas Ornament, And James Gunn's Reaction Is Hilarious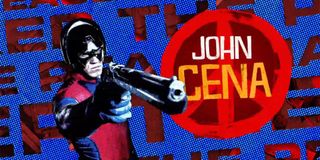 James Gunn is preparing for the release of his DC Comics adaptation, The Suicide Squad, and the hype for the movie is growing as its August release date inches closer and closer. Amid the anticipation, fans seem to be particularly excited for the debut of John Cena's character, Peacemaker, whose costume reveal went viral and posed some challenges on set, the latter point coming from James Gunn. Everything seems to have panned out well for everyone involved, and, now Cena's character has a Christmas Ornament, which drew a hilarious response from Gunn.
James Gunn just couldn't help but responded to the fact that John Cena's Peacemaker actually has a Christmas Ornament. Peacemaker is already so popular that he already has niche merchandise for fans to splurge on. Check out Gunn's hilarious Twitter reaction to the development down below:
Jame Gunn is no stranger to sharing hilarious tidbits on Twitter, recently having had a funny back-and-forth with Star Wars legend Mark Hamill about Gunn's Guardians of the Galaxy Holiday Special. Gunn's reply to finding out John Cena's character having a Christmas ornament is classic, acknowledging the irony of Peacemaker's violent inclinations and the holiday itself being all about peace on Earth.
John Cena has a major summer coming up between playing Peacekeeper in The Suicide Squad this coming August and taking on the role of Vin Diesal's evil brother in F9 in June. Cena is pumped for his clash with Diesel, and the Fast movies are even returning to theaters ahead of the release of the new film in order to get fans pumped up and ready to go this summer.
Jame Gunn, meanwhile, is always busy between his work on The Guardians of the Galaxy franchise and his ideas for the DC universe. Guardians of the Galaxy Vol. 3 isn't far away either, and Marvel fans cant wait to see what its ragtag team gets up to next. Gunn is really making his mark in the comic book movie world, and he has fans excited for his take on the new and improved Task Force X.
The Suicide Squad is highly anticipated, and James Gunn will have fun with it until its release. The details and the stories from the set give an idea of the fun environment of Gunn's productions and simply builds hype for all those waiting for the film. John Cena might end up being the standout star in the new movie, and judging by the already weird merchandise his character has inspired, he probably already is. Though with so many other bright stars in the ensemble cast, he could still have a little competition.
The Suicide Squad hits both theaters and HBO Max on August 6, 2021.
Movie and TV obsessive. A good Heist movie is the way to my heart. Enjoyer of everything from Marvel Movies to Rom-coms.
Your Daily Blend of Entertainment News
Thank you for signing up to CinemaBlend. You will receive a verification email shortly.
There was a problem. Please refresh the page and try again.