Mark Hamill Has The Perfect Response To James Gunn Finishing The Guardians of the Galaxy Holiday Special Script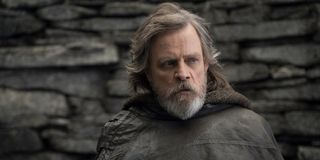 James Gunn, the architect of Marvel's Guardians of the Galaxy movies, is always up to something. The screenwriter and director recently gave fans an update on the production of Guardians Vol. 3, confirmed some fun info about the highly anticipated movie and its theme park ride, and reacted to Steven Spielberg's apparent love of the franchise. Recently, Gunn also showed off his finished script for The Guardians of the Galaxy Holiday Special, and Mark Hamill had the perfect response.
Mark Hamill is having fun with the idea of James Gunn attempting to make a holiday special in his own galaxy-spanning franchise. The Star Wars legend and voice-acting extraordinaire couldn't help but chime in on James Gunn's holiday special announcement by replying to him on Twitter:
Mark Hamill replies with his classic Luke Skywalker line from A New Hope. Hamill is no stranger to holiday specials, having played a role in the infamous Star Wars Holiday Special. That special is actually an inspiration for James Gunn, as he attempts to produce a yuletide tale for the Guardians. The Suicide Squad director replied to Hamill, saying, "These things ALWAYS go well," acknowledging the hilarious history of the Star Wars Holiday Special.
Thankfully for Mark Hamill, he won't have to worry about suiting up for a seasonal special this time around. The actor is currently part of an excellent voice acting cast on Amazon's animated superhero show Invincible. The man is always working and seems to always find a way to chime in funny ways on Twitter. Throughout his immense career, he has played some iconic characters and said some iconic lines, and he always has them in his back pocket so he can quote them to his peers on social media.
Meanwhile, James Gunn, while working on Guardians Vol. 3, is getting ready for the release of his revamped version of The Suicide Squad for DC, and he has hinted at having a lot more ideas for that universe. Squeezing in a crazy idea like a holiday special in between these massive projects is quite the undertaking, and maybe he can somehow convince Mark Hamill to be a part of it in some capacity. That's a tall order, but it's certainly not impossible.
Coincidentally, Star Wars did release a Lego Star Wars Holiday Special last year, and it was well-received. The original Holiday Special was weird and lackluster but now holds a special and ironic place in the history of the famed franchise. And if anything Mark Hamill and James Gunn's back-and-forth shows that the holiday special's legacy is still going strong.
While you wait for The Guardians of the Galaxy Holiday, you can stream The Lego Star Wars Holiday Special on Disney+ now.
Your Daily Blend of Entertainment News
Movie and TV obsessive. A good Heist movie is the way to my heart. Enjoyer of everything from Marvel Movies to Rom-coms.