Us Again Producer Shares The Break-Your-Heart Moment That Solidified The Film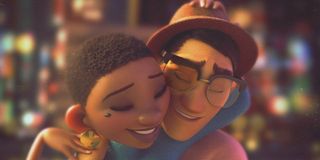 Every film begins with an idea for a story. The end result we see can be very close or very far from the project's inception, depending on various factors including the team putting it together. Walt Disney Animation Studios' Us Again required little changes from its initial idea, and the producer shared the moment that solidified the film.
Us Again tells the story of Art and Dot, a couple living in a vibrant city where dance is the means by which everything is done rather than something people go out and do. Art is struggling with aging and longs for his youthful days, so when a magical rainfall makes him young again, he wants nothing more than to make it last. Here is what producer Brad Simonsen told CinemaBlend of building the story:
As the rain begins to dissipate, Art chases the clouds to the edge of the city so he can keep his youth. He pulls his wife Dot along with him, but she isn't able to keep up, and eventually lets go of his hand. He follows the rain to the end of the pier alone, but the rain stops anyway, restoring his age, and he looks back to see his wife looking totally defeated. As Brad Simonsen said, this moment is completely heart-breaking. In his race to the fountain of youth, Art essentially chooses that over more time with his wife, if only for a second.
The collaborators Brad Simonsen mentions above are reference choreographers Keone and Mari and composer Pinar, all of whom's brilliant work is the heart and soul of Us Again. Movement and music are used in place of speech in this film, with precise meaning and intention behind every single beat. Us Again is truly a work of art, and it is now streaming on Disney+ (opens in new tab).
Your Daily Blend of Entertainment News
Obsessed with Hamilton and most things Disney. Gets too attached to TV show characters. Loves a good thriller, but will only tolerate so much blood.
Your Daily Blend of Entertainment News
Thank you for signing up to CinemaBlend. You will receive a verification email shortly.
There was a problem. Please refresh the page and try again.