Next Time You Watch Disney's Us Again, Look For These Easter Eggs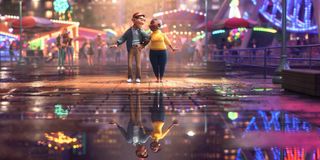 The wonderful people at Walt Disney Animation Studios love their easter eggs, and so do the fans. Us Again, the latest short which is the first released by the studio in five years, is no exception when it comes to these hidden surprises and you'll want to rewatch it to find them all. The film's director has shared some of the easter eggs and other hidden treasures we can look for.
Us Again is only six minutes in length, but those six minutes pack multiple punches, and not a second is wasted. It's simply magic how much is communicated in this film without a single word. I recently attended a press conference in support of the film where director Zach Parrish shared the following special details that fans will love:
Time to go easter egg hunting! This is a great opportunity for some friendly competition to see who out of your friends and family can find the most hidden Mickeys. And everything that was just mentioned is not all! Zach Parrish also said the following, and completely sold me on re-watching (as if I needed another reason):
Disney never fails to blow my mind with the details. Ending with the young souls of the old couple reflecting in a puddle from the rain? Genius. I had a million questions for producer Brad Simonsen when we sat down for an interview with CinemaBlend focused around how the team comes up with these easter eggs and finds homes for them in each film. Here's what he shared:
I am forever in awe of this entire process. Part of what's so beautiful about film is being able to experience something new with every viewing. This insider knowledge kind of makes me want to go back and rewatch every Disney movie ever. Would you care to join me in that effort?
Now streaming on Disney+, you can watch Us Again over and over to your heart's content. Check out our ranking of every Walt Disney Animation Studios feature and see how it stacks up against your own.
Your Daily Blend of Entertainment News
Obsessed with Hamilton and most things Disney. Gets too attached to TV show characters. Loves a good thriller, but will only tolerate so much blood.