Us Again, The First Walt Disney Animation Short In 5 Years, Will Make You Cry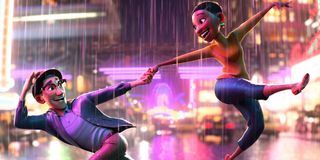 Disney Animation has released Us Again, the first new theatrical short since the 2016 release of Inner Workings which accompanied Moana on the big screen. The new short from director Zach Parrish brings together dance, music, and the emotional storytelling and inspired animation we've come to expect from Disney. Us Again is making its debut exclusively in theaters worldwide prior to showings of Raya and the Last Dragon and it will absolutely make you cry.
Us Again follows elderly man, Art, and his young-at-heart wife, Dot, who rekindle their passion for one another and life on one magical night in a vibrant city. The short film is told entirely without dialogue and set to a magnificent original 60s funk and musical score. I got to sit down with director Zach Parrish for an interview with CinemaBlend and he opened up about personal connections that make this stunning short so emotional.
While Us Again is entirely non-speaking, it says so much. Life is to be embraced and experienced, not observed as a bystander, and we should grab each moment and look at each day and second as exciting and new rather than a countdown to the end.
Us Again director Zach Parrish is an eleven-year veteran of Disney Animation who served as head of animation on Big Hero 6, so he is no stranger to making Disney magic and he succeeds with this short film as well. He even drew inspiration from his own grandparents, which is part of what makes the film so touching. Here's what he shared:
The animation is so beautiful and real that you forget you're not looking into actual human faces. Music and movement are also used to convey emotion in this film, which was choreographed by award-winning World of Dance performers Keone and Mari and composed by Pinar Toprak (who worked on Captain Marvel). Every aspect of this film captures the fear of aging and the relief, excitement, and pure bliss felt in breaking free from that fear. Zach Parrish also said:
Viewing yourself as young or old truly is a choice, and that's exactly what Us Again tells us in the most beautiful way. So I don't expect you to cry in a sad way, but in a joyous, full of relief, this is so relatable and makes me so happy I can't explain it kind of way. If you aren't able to make it to a movie theater to see Us Again along with Raya and the Last Dragon, fear not. Us Again is scheduled to make its streaming debut in June on Disney+ (opens in new tab).
Obsessed with Hamilton and most things Disney. Gets too attached to TV show characters. Loves a good thriller, but will only tolerate so much blood.
Your Daily Blend of Entertainment News
Thank you for signing up to CinemaBlend. You will receive a verification email shortly.
There was a problem. Please refresh the page and try again.