Mia Farrow's Son Thaddeus Is Dead At 27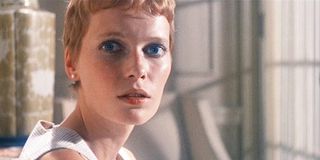 (Image credit: Rosemary's Baby)
Thaddeus Wick Farrow, the adopted son of actress Mia Farrow, was declared dead on Wednesday. He was 27 years old.
The young man was found seriously injured in his car in the town of Roxbury, Connecticut, and then pronounced dead after being rushed to a nearby hospital, reports Fox News. The police have reported that there was likely no criminal aspect to Farrow's death, and an autopsy to determine the cause of death has been scheduled for Thursday, according to Patch.
Police say that Thaddeus Farrow lived in the nearby town of Torrington, Connecticut, having been there a few years since moving out of his mother's house. Thaddeus has suffered from polio his whole life, which leaves him paralyzed from the waist down. He contracted the disease in the orphanage in India where he was raised.
A feature story in Vanity Fair from 2013 revealed that Thaddeus was working as a car mechanic a few years back and studying to be a police officer. After a traumatic upbringing in an orphanage where he was mercilessly ridiculed, Thaddeus shared how overwhelmed he was to be loved by Mia Farrow and his new siblings.
Mia Farrow adopted Thaddeus Farrow from an orphanage in Calcutta, India in 1995. He is one of the many children Farrow has adopted throughout the years, and sadly, the third of her adopted children to die. Her daughter Tam Farrow died of heart failure in 2000 at the age of 19, and her other adopted daughter Lark Farrow died in 2008 at the age of 35.
Following the death of Thaddeus, Mia Farrow has 11 living children --- four biological and seven adopted. Three of Farrow's biological children are from her marriage with musician André Previn (twins Matthew and Sascha, and son Fletcher), and her fourth son Ronan Farrow was born during her marriage to Woody Allen. Though Allen is believed to be Ronan's father, Mia Farrow has also stated that his father could possibly be her first husband Frank Sinatra.
Throughout the years, Mia Farrow has also adopted several children from countries around the world. Along with Thaddeus, Tam, and Lark, Farrow has also adopted her children Daisy Previn, Soon-Yi Previn, Moses Farrow, Dylan Farrow, Quincy Farrow, Frankie-Minh Farrow, and Isaiah Farrow. The Huffington Post has a handy chart of Mia Farrow's children to help you keep it all straight.
Mia Farrow has not commented on the death of Thaddeus Farrow as of Thursday afternoon.
Your Daily Blend of Entertainment News