The Terrifying Scare Kim Kardashian Had During Her First Pregnancy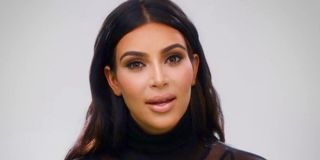 Kim Kardashian recently revealed yet another shocking aspect of her first pregnancy with her daughter, North West. Apparently, the 36-year-old reality television star experienced a false miscarriage. Kardashian previously shared details of the complications she experienced during that pregnancy, and the Keeping Up with the Kardashians cameras documented many of those situations. But Kardashian had yet to open up about the false miscarriage until now. She explained,
Kim Kardashian described the false miscarriage on the Keeping Up with the Kardashians ten-year retrospective on E!. During the show, Kardashian joined her mom and famous sisters for a sit-down interview with Ryan Seacrest, and she shared the story when the talk turned to emotional moments.
Previously, Kim Kardashian spoke about the complications she encountered during her two pregnancies. Besides the false miscarriage, Kardashian also endured early-onset preeclampsia during her pregnancy with North West. The malady, which affects about 5 percent of pregnant women, caused Kardashian's body to swell abnormally. As a result of the condition, she had to deliver early at 34 weeks.
Furthermore, Kim Kardashian had placenta accreta, which is a serious condition that sees the placenta fasten too intensely to the myometrium (i.e., the muscular wall of the uterus). Kardashian later blogged in detail about the painful process of removing the parts of the placenta that were stuck. According to Kardashian, the doctor had to use his fingernails to scrape away more of the remaining placenta from her uterus.
However, Kim Kardashian still had placenta tissue stuck. She had to undergo two surgeries to remove all of it. The first surgery removed the rest of the stuck placenta. The second surgery removed the scar tissue that formed as a result of the birth, the scraping, and the initial operation.
Then in Kim Kardashian's second pregnancy with her son, Saint West, she experienced symptoms of preeclampsia again. Plus, her chiropractor said that her spine had become compressed. Kardashian's body swelled abnormally again, and she suffered additional complications.
Afterward, Kim Kardashian underwent surgery again to fix a hole in her uterus. The doctor was able to repair the problem and save Kardashian's life, but he later informed her it would be impossible to carry another child. For this reason, Kim Kardashian and Kanye West joined other celebrities such as Lucy Liu, Sarah Jessica Parker and Mathew Broderick, and Angela Bassett and Courtney B. Vance by hiring a surrogate to carry their third child.
Recent reports say the surrogate that Kim Kardashian and Kanye West hired is pregnant and doing well. Hopefully, the preeclampsia, placenta accreta, and false miscarriage scare were concerns unique to Kardashian's pregnancy experience.
Your Daily Blend of Entertainment News
Thank you for signing up to CinemaBlend. You will receive a verification email shortly.
There was a problem. Please refresh the page and try again.