Kim Kardashian Reveals Her Positive Outlook After The Robbery In A New Post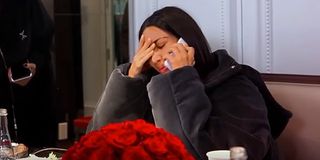 The world experienced a collective jaw drop last October when the news broke that criminals had attacked and robbed Kim Kardashian at gunpoint in her hotel during Paris Fashion Week. Now the Kardashian sister is speaking out with no-holds barred to talk about the Paris incident and her uplifting decision to use it as a means for personal growth. Kardashian took to social media to communicate her bold attitude toward the terrifying event. See her statement here:
In the past, Kim Kardashian and her family have opened up about almost each facet of their life. Whether the family has had good news, bad news, or something in between, they have always kept things real with the viewers. However, the Paris incident was a different story. It prompted Kim Kardashian to scale back her social media presence for several weeks to assess matters, although she's back on Instagram. The production of the reality show even went on hiatus while the famous family dealt with the intensity of the event.
Consequently, it has been months and fans have waited with baited breath for Kardashian to provide a full explanation of what happened. But as an expert in reporting big news at just the appropriate time, Kardashian saved all talk about the Paris incident for this season of Keeping Up with the Kardashians. After all, if you have huge news that is going to rock the world, you wait and share it on your terms.
So, on the Sunday, March 19 episode of Keeping Up with the Kardashians, Kim Kardashian gave a play-by-play about her harrowing struggle. For example, she explained that the robbers wrapped her face in duct tape to keep her from screaming. The reality-show star guided viewers through the horrifying feelings and thoughts that she encountered during the incident. Kardashian revealed that she mentally prepared for the thugs to rape and murder her, and she even prayed that her sister, Kourtney Kardashian, would have a normal life if she returned to find her dead body on the bed.
The robbers left Kim Kardashian bound in the apartment but stole her jewelry box and the $5.6 million worth of jewelry inside it. One of the stolen items, a ring with a 20-carat emerald cut diamond, was worth $4.5 million.
Kim Kardashian released a statement before the airing of the special episode. Then, with the televised discussion of the tragic incident behind them, the family took to social media to show love for Kim Kardashian. Mom Kris Jenner tweeted special words about the heartbreaking incident.
We have been glad to see Kim Kardashian back on social media with posts that have a unique family-first flair. But most of all, we feel happy to see her reclaim her voice on her terms with powerful statements like the one from last night that discusses how she took what was clearly a tragic event and helped her to become the person she is today. Kim Kardashian has gone through a lot in her life, but we are happy that her experiences only seem to be making her stronger.
Your Daily Blend of Entertainment News
Your Daily Blend of Entertainment News
Thank you for signing up to CinemaBlend. You will receive a verification email shortly.
There was a problem. Please refresh the page and try again.