Piers Morgan Made Some Blunt Comments About Kim Kardashian's Cellulite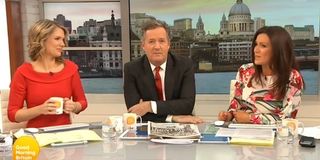 Piers Morgan is not one to hold back an opinion. On an episode of Good Morning Britain, Morgan expressed some controversial thoughts in response to comments about pictures of Kim Kardashian in a bikini. The 52-year-old British television personality reacted to a suggestion about celebrating natural body features, including cellulite, and what he said was shocking. Check out the talk show host's thoughts:
The conversation about cellulite and Kim Kardashian's looks began when Good Morning Britain displayed a newspaper with a headline about Tom Hardy apprehending thieves in London. Next to the headline was a photo of Kardashian in a bathing suit. Morgan's co-host, Susanna Reid, teased nobody was looking at the Hardy headline with pictures of Kardashian there next to it.
Then Piers Morgan shifted the conversation to focus on the 36-year-old reality-television personality. At first, Morgan tried to articulate a seemingly negative opinion about how the photo of Kim Kardashian had not received airbrushing. Susanna Reid would not have it. Reid explained that Kardashian looked "fabulous" and praised the unretouched photos for being "a little bit more honest." Reid called Kardashian "extraordinary" and continued,
At that point, Piers Morgan decided to make it clear he would not be celebrating cellulite anytime soon. Piers Morgan might not have intended to come across in an offensive way. However, he managed to isolate many viewers with his explanation about why people should not view cellulite through a lens of body positivity.
Later, Piers Morgan took to Twitter to double down on his views toward cellulite. In one tweet he declared cellulite is a flaw like a double chin and nothing to be celebrated. In another tweet, Morgan maintained his views were not sexist because neither men nor women celebrate cellulite. He even tweeted one of Kim Kardashian's Kimoji emojis, specifically one with the likeness of Kardashian's derriere, and Morgan tried to explain Kardashian's posterior should be fair game for debate because she sells that emoji.
Finally, after Kim Kardashian revealed her humility on the Ellen show, Piers Morgan wrote an article about how he did not buy it. He pledged to stop talking about her or her famous family, whom he called "a pitiful parody of stinking, sobbing hypocrisy that should no longer be encouraged or tolerated in civilized society." (Wow, tell us what you really think, Piers.)
So, he won't be talking about Kim Kardashian for a while. Perhaps he will treat the topic of cellulite the same way. It will be interesting to see if this conversation ever comes back to bite him in the---future.
Your Daily Blend of Entertainment News
Thank you for signing up to CinemaBlend. You will receive a verification email shortly.
There was a problem. Please refresh the page and try again.