Tom Hanks Ran Into A Random Bride and Groom, And The Pictures Are Wonderful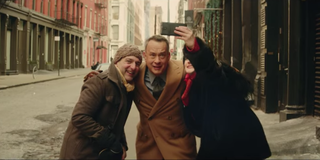 A couple's wedding photos should be perfect, so you'd probably be pretty annoyed if someone started photobombing them, right? Well what if that someone was Tom Hanks! The A-list actor surprised a couple's wedding photo shoot in Central Park this weekend to pose for some pictures and wish them well.
While wedding photographer Meg Miller was taking pictures of the happy couple, Tom Hanks ran in front of the camera, approached the pair, and said simply, "Hi, I'm Tom Hanks," Miller recalled to The Huffington Post. After realizing that they were looking at Forrest Gump himself, the couple posed for some photos with Hanks before he jogged away.
But Tom Hanks didn't just leave the soon-to-be-wed Elisabeth and Ryan with a few photos, according to Miller, he also asked if they needed and officiant for their nuptials. You may recall that last year, Hanks got ordained as a minister for the low, low price of $35 in order to officiate the wedding of Allison Williams (Hanks' wife Rita Wilson plays Williams' mother on Girls).
I guess Elisabeth and Ryan already had an officiant lined up, because Miller doesn't expand on that little comment. But before returning to his run, Hanks snapped a selfie with the couple to post on his Instagram, and wished them well.
Tom Hanks must've been flying high following the release of his new biographical drama Sully, in which he plays Captain Chesley "Sully" Sullenberger, the pilot who made international headlines back in 2009 after safely landing a commercial airplane in the Hudson River without any casualties. His future projects include costarring with Emma Watson in the sci-fi adaptation The Circle, and reprising two of his leading roles in famous franchises: religious iconography professor Robert Langdon for the Da Vinci Code sequel Inferno, and toy cowboy Woody for the upcoming Toy Story 4.
It's nice to know that between all of those projects, Tom Hanks is still a fun-loving guy who runs in the park and takes the time to make a couple's wedding photos even more memorable. It's no wonder he's America's favorite actor!
Your Daily Blend of Entertainment News
Thank you for signing up to CinemaBlend. You will receive a verification email shortly.
There was a problem. Please refresh the page and try again.