Val Kilmer Addresses The Rumor That He Has Cancer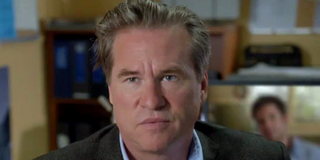 (Image credit: Psych)
Apparently, Val Kilmer is feeling just fine! Following rumors that the actor has been battling cancer, Kilmer wrote a lengthy note on his Facebook page to assure his fans that those rumors are false and that he is perfectly healthy. The post is the most that Kilmer has spoken about his health since speculations that he was battling a serious illness began surfacing nearly two years ago.
Val Kilmer's post is in response to a comment that his former co-star Michael Douglas made over the weekend. During a live Q&A in London, Douglas said that Kilmer was dealing with "exactly what [he] had," reports the Huffington Post. That was taken as a reference to Douglas' public battle with tongue cancer throughout 2010, which he was declared free of the following year, after aggressive chemotherapy and radiation.
Outlets quickly began to report that Val Kilmer has been suffering from tongue or throat cancer --- a believable diagnosis given the health issues Kilmer had been exhibiting over the past two years. At the very beginning of 2015, Kilmer was hospitalized after his throat began to bleed. Later that year, he was spotted with a medical device that appeared to be a tracheostomy tube in his neck, and would continue to hide his neck with scarves when in public. Kilmer denied any illness at the time, and continues to do so now, instead referring to whatever happened to him as a "physical challenge" in his Facebook post.
According to Val Kilmer, he hadn't spoken to Michael Douglas in years, the last time being when he asked him for a medical referral during his throat bleeding episode at the beginning of last year. Kilmer says that the medical team found a lump in his throat and he is still recovering from having it removed, but denies ever having cancer.
Val Kilmer went on to cite the amount of work he's been doing this year as proof of his health. Kilmer filmed three movies which are slated to come out in 2017: the star-packed drama Weightless, the British crime drama The Snowman, and the thriller The Super. He also announced that he is directing a film adaptation of his Mark Twain-based play Citizen Twain.
To remain as successful and relevant in the entertainment industry for over 30 years as Val Kilmer has, you've got to be a fighter. Thankfully, it sounds like he's just about as healthy as ever.
Your Daily Blend of Entertainment News