Wait, Are Ben Affleck And Jennifer Garner Getting Back Together And Expecting?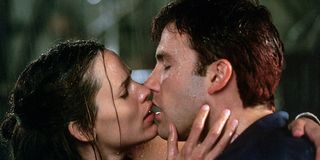 (Image credit: Daredevil)
Could Ben and Jen be giving it another go? That's been the chatter for a few weeks now, and a recent rumor that Jennifer Garner is pregnant with another one of Ben Affleck's children is certainly adding fuel to the reunion fire. Though another outlet is shooting down the baby report.
A new report from RadarOnline is claiming that the former celebrity supercouple is going to give there marriage a second chance now that Jennifer Garner is reportedly expecting a fourth child. According to the report, a source has said that the pregnancy has convinced Ben Affleck to recommit to his family and Garner is over the moon about it.
Meanwhile, Gossip Cop is saying the baby rumor is false, according to their source, who also says the divorce is not being called off. So take all of this speculation with a grain of salt.
Speculation that Ben Affleck and Jennifer Garner are planning to get back together has been bubbling up for a while now. The couple announced their intention to divorce after ten years of marriage last summer, but never actually filed their divorce papers officially. Also, since they continue to co-parent their three children (Violet, 10, Seraphina, 7, and Samuel, 4), the separated couple has continued to live together, although in different quarters of their Los Angeles home. And they remain friendly and are frequently spotted out together --- they recently cast their ballots in the 2016 election together, and reportedly attend Mass as a family every Sunday.
So while a romantic reunion may be in the future for Ben Affleck and Jennifer Garner, depending on which report has more accurate info, how much weight can we put behind these baby rumors? Looking at RadarOnline's track record with Garner's pregnancy history, not a whole lot. The online tabloid has reported that Garner was pregnant with her and Affleck's fourth child twice before now in the past year and a half (here and here), and of course been incorrect on both accounts. Aside from the source quote, the report also points to the fact that Garner wore a loose-fitting sweater when voting with Affleck on Election Day as proof that she is hiding a baby bump, which obviously is far from substantial.
While we probably can't trust the news about Jennifer Garner being pregnant, the murmurs about a Ben and Jen reunion seem to at least be a bit more well-founded, but it's still just rumor for now. The couple shocked the world by announcing their split in June of 2015 after spending more than a decade together and raising three children. Reportedly, the reason for the separation was Ben Affleck's alcoholism --- Affleck had previously attended rehab for alcohol addiction in 2001 and spoken about his family's history with the dependency. Tabloids also reported that Affleck had cheated on Garner with a nanny hired to watch their children, which Garner refuted earlier this year by saying that they had been separated before the nanny was ever brought up.
Here's hoping for second act for Ben and Jen --- just don't make another Daredevil, please.
Your Daily Blend of Entertainment News