Big Bang Theory's Kaley Cuoco Is Engaged, Watch The Video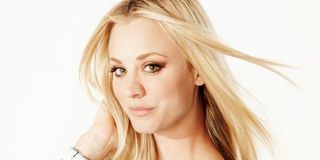 Actress Kaley Cuoco of The Big Bang Theory recently celebrated birthday number 32 by getting engaged to Karl Cook, her boyfriend of two years. The professional horse rider seemingly took Cuoco's breath away with his proposal surprise. Cuoco appeared visibly stunned in a heartwarming video Cook uploaded to social media. She technically had yet to accept the proposal and then did so on camera. Take a look:
How sweet is this video? We love the emphatic way Kaley Cuoco responds "Yes!" multiple times when Karl Cook mentions she has yet to answer. Did you notice in the caption for the video Cook wrote: "Who knew my prior post was oracular"? What he had most recently uploaded before posting the proposal video was a photo of himself with Cuoco in a store. Grinning, Cook showed Cuoco a toy ring, which failed to impress the multitalented actress. Little did she know she would be getting engaged not long afterward.
Already, more than 1 million people have viewed the adorable engagement video on Instagram, where Karl Cook posted followup pictures and videos, including a video of himself and Kaley Cuoco enjoying their new engagement moments after he proposed. Warning--this one is mushy. But check it out:
Karl Cook tossed up a social media photo of the gorgeous pear-cut engagement ring he got for his sweetie. It is a mighty fine piece of jewelry, so Kaley Cuoco undoubtedly loves it. Have a peek:
It is lovely to see Kaley Cuoco so happy in love again. Cuoco previously wed tennis star Ryan Sweeting in 2013 after three months of dating, but their marriage came to an end in a somewhat ugly split 21 months later in 2015. While she and Sweeting were in the process of splitting up, her social media presence was a bit gloomy. Cuoco deleted all of the photos and videos of herself with her ex, while Sweeting himself wiped his social media photo accounts clean of all trace of Cuoco.
Kaley Cuoco linked up with Karl Cook by the end of 2015, and the match seems to have provided a lot of comfort for the television star. Of course, we'll be here to share all of the details about their upcoming wedding details as soon as those arrive. But for now, we wish them all the best and hope they have a great time basking in their engagement.
Your Daily Blend of Entertainment News
Your Daily Blend of Entertainment News
Thank you for signing up to CinemaBlend. You will receive a verification email shortly.
There was a problem. Please refresh the page and try again.