Check Out Banksy's Ultra Creepy Disney-Inspired Theme Park For Adults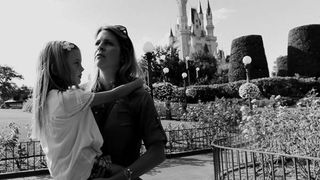 Famed graffiti artist Banksy has just announced his biggest exhibition yet, featuring a Disney-inspired theme park which the artist describes as "unsuitable for children". The Dismaland show is the artist's first in the UK since 2009, and is already drawing in huge ticket sales. The work itself is dark, creepy and super sinister. Basically exactly what you'd expect for the infamous artist.
The exhibit (as seen in photos by BBC) takes place at a derelict seafront swimming resort in Weston-super-Mare, UK and also features work from Damien Hirst, Jenny Holzer, Jimmy Cauty and more. There had been mysterious construction taking place over the past month, with sights of a dingy Disney-like castle and other massive pieces. The secret generated even more anticipation, and with the name Banksy attached, well let's just say, it very quickly became a big deal.
The pop-up installation takes you inside a dystopian theme park, clearly commenting on the state of theme parks today. According to the brochure, Dismaland, "The UK's most disappointing new visitor attraction" promises an alternative to the "soulless sugar-coated banality of the average family day out" and "a chaotic new world where you can escape from mindless escapism".
Termed as a 'bemusement park', Dismaland's entire theme is that theme parks should have bigger themes. The demented assortment of strange exhibits prompts visitors to second guess our obsessions with theme parks and life-changing promises within them. The themes ranging from anti-consumerism and anti-corporate messages, all the way to ideas of the apocalypse. It looks dark and creepy, and while Banksy is behind bringing this to life, what's interesting is how much of the work is actually other artists instead of Banksy himself (though he does have at least 10 pieces on site).
The provocative exhibit will be to the public for five weeks starting on Saturday. According to NME there will also be a few performances at the exhibit by bands including Run The Jewels and Savages. Weston is getting ready for some major crowds to pile in. And Banksy has already forbidden a few important things, including any "legal representatives of the Walt Disney Corporation."
Your Daily Blend of Entertainment News
Your Daily Blend of Entertainment News
Thank you for signing up to CinemaBlend. You will receive a verification email shortly.
There was a problem. Please refresh the page and try again.