Disney Theme Parks Have Officially Banned Selfie Sticks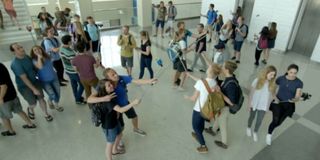 There's always one person who ruins it for the rest of us. But in this case, I'm sure more will be pleased with Disney Parks recent banning as opposed to disappointed. Earlier this morning Walt Disney World officially announced it would be banning selfie sticks from its theme parks. Other than being a particularly annoying trend, the park cites the rule as enforced for safety concerns.
The announcement comes in response to an incident that occurred earlier this week, when a Disney California Adventure roller coaster was stopped midway because one passenger decided it was the perfect time to take a selfie, with a selfie stick. The riders were screaming in frustration according to The Orange County Register as ride operators had to shut down the California Screamin' coaster after an unnamed passenger pulled out the elongated stick while the ride was in process. Many visitors tweeted their frustrations with the ride, claiming it to be shut down for two hours while stopped right at the top.
Selfie sticks have become a major problem at amusement parks, particularly on the rides where riders feel it necessary to snap a pic mid ride. The phone accessory has already banned on rides at most amusement parks, including Disney Parks, but that doesn't stop passengers. So now, in response, Disney Parks have banned selfie sticks entirely from its premises. In case you haven't experienced the danger of a selfie stick, Pizza Hut has you covered:
The new policy will go into effect on Tuesday, and the poles won't make it through bag check at the theme parks. They also won't be allowed in Disney World water parks or DisneyQuest, a Downtown Disney gaming attraction. A Disney World spokesperson told Orlando Sentinel:
The selfie sticks will also be forbidden at Disneyland Resort in California at the end of the month, and the ban will go into effect at Disney's Paris and Hong Kong parks on July 1. Long story short, leave your selfie sticks at home, folks, because Disney's done dealing with the foolishness. Visitors will have the option to turn their poles in for pick-up later or go back to their cars to stow them at the parks' entrances. But it looks like you'll have to stick to the length of your arms for a selfie shot from now on at any Disney Theme Parks.
Your Daily Blend of Entertainment News
Your Daily Blend of Entertainment News
Thank you for signing up to CinemaBlend. You will receive a verification email shortly.
There was a problem. Please refresh the page and try again.