Shia LaBeouf Delivers The Weirdest, Most Intense Motivational Speech Ever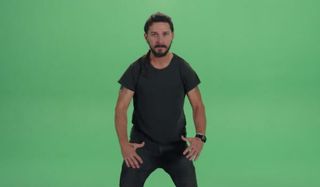 Shia LaBeouf has become quite the performance artist as of late. Whether you love him or hate him, at the end of the day, it doesn't seem like LaBeouf cares even the slightest. He'll just keep doing the weird things he loves to do, and let us all sit here pondering why. But this time around, as weird as his motivational speech may be, it's actually a bit effective. Check out the intensity (rat tail included) below:
Nike's slogan, "Just do it" never sounded so mandatory. That was until Shia LaBeouf told all of those lazy suckers out there to get off their bums and get things done. As speeches go, this may be short and sweet, but I think we all get the point.
The 30-second rant is part of a collaboration between Shia LaBeouf and students from Central Saint Martins, one of the UK's leading arts universities. According to The Guardian, this clip is one of 36 brief video segments which includes LeBeouf reciting his favorite poem, "The Laughing Heart" by Charles Bukowski, a lot of standing in silence in front of movie projection clouds, reading the lyrics of a 1980s song, "She Can't Love You" by Chemise, and repeating of "ooohmm" sounds in front of a picture of a block of butter.
The project was also a collaboration between LaBeouf, British artist Luke Turner and Finnish artist Nastja Säde Rönkkö, whom LaBeouf began working with 18 months ago. The trio was approached by students from the London art show to present this online live stream as part of their graduate show, and eventually the idea was brought to life with LaBeouf filming an intro to the students work in front of a green screen. You can see all of the #Introductions here (opens in new tab). One of the fine art students behind the project explained their choice of LaBeouf:
So while some may be totally weirded out by Shia LaBeouf's latest stroll down performance art lane, it sounds like a portion of the art community (or at least the youth) are really into it. We'll see what crazy thing LaBeouf has up his sleeve, as he always has a way of surprising us.
Your Daily Blend of Entertainment News
Thank you for signing up to CinemaBlend. You will receive a verification email shortly.
There was a problem. Please refresh the page and try again.