Walking Dead Superfan Sentenced By Judge For Stalking Actor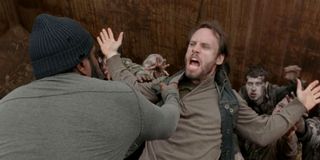 We've heard plenty of stories about Walking Dead superfans, stalking the set to take photos and leak spoilers. The cast has even openly discussed the difficulty in keeping the series spoiler-free with the use of drones on the rise. But one specific Walking Dead superfan has taken her obsession with one of the particular actors way too far over the years, and is now facing quite the sentence.
According to WSB-TV Atlanta, a local woman named Kathryn Boykin has been harassing Walking Dead actor Daniel May and his wife Rachel May for years. The DA Office claims that the women's fascination started all the way back in 2006 when she attended a performance of the actor. But, it wasn't until 2013, that Boykin's damage started to affect May and his wife. In an incident in December that year, Boykin awaited outside Synchronicity Theater in Atlanta, a theater run by The Walking Dead actor's wife, with a sign in hand that read "Shut Down Synchronicity". Boykin also made a number of disparaging remarks to Rachel May.
Throughout 2013, Boykin also took to the internet to harass May and his wife. Boykin had created several social media accounts and used them to spread lies about the couple or to falsely accuse Daniel May of a variety of crimes. She posted statements on websites and also harassed the Mays via e-mail. The couple asked Boykin to stop, which she didn't so the DA got involved, and soon had a protective order against her.
Now, her latest encounter has resulted in an arrest for breaking her restraining order. Clearly, the obsession hasn't let up. So, a judge is taking precautions and sentenced Boykin to 10 years probation. This prohibition includes being permanently restrained from having contact with Daniel May or his wife, but possibly the even more serious sentence is that Boykin is not allowed to use the internet during the sentence. That's a potential 10 years without internet. I can think of a few other people who need that sentence. But, Boykin also must maintain mental health medication and treatment, which can hopefully help her lose interest in the Mays.
For those who aren't familiar with Daniel May, the actor appeared as Allen in early Season 3 of The Walking Dead and spoiler alert he was killed off in that season's finale.
Your Daily Blend of Entertainment News
Thank you for signing up to CinemaBlend. You will receive a verification email shortly.
There was a problem. Please refresh the page and try again.