William Shatner Currently Writing Book About Star Trek Co-Star Leonard Nimoy, Get The Details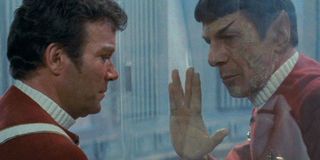 The loss of Star Trek legend Leonard Nimoy still stings, even over six months after news of the actor's death. But thankfully, fans and friends continue to remember and pay tribute to the beloved actor. And with the 50th anniversary of the beloved franchise on the horizon, there's no better time than now to explore the depths of the sci-fi classic, particularly the relationship between two of the most memorable, original Star Trek members. William Shatner has decided to pick up a pen and write a book about his Star Trek co-star and longtime friend, Leonard Nimoy, giving us an inside look at the two's relationship.
Shatner is reportedly currently underway writing the book tentatively titled, Leonard: A 50 Year Friendship, according to Showbiz 411. The actor, who portrayed James T. Kirk in the original Star Trek series is preparing the official biography of Mr. Spock and it is due out in 2016 from St. Martin's Press. Shatner and his co-writer on the project have reportedly interviewed almost everyone available from Nimoy's past, and are helping to document an intimate look into the actor's inspiring life. The duo started as young actors on a series that would go on to reach both a critical and cult following, but beyond working together, a deep friendship blossomed.
Shatner had caught a lot of harsh criticism when he had to miss his fellow Star Trek star's funeral service, but in response shared a number of beautiful moments and even fielded questions from fans via his social media account. The "Twitter Funeral" gave us a glimpse into just how special a relationship the two had, and a book exploring the longtime friendship is bound to give us even more.
Along with the biography, a documentary about Nimoy's life and his famed character are also in works from Nimoy's son, Adam, and it is set to release the same year as the novel. Shatner has also helped to back the documentary, and even agreed to appear in the doc, so while we may have lost the Star Trek legend, this is far from the last we'll hear about him.
Your Daily Blend of Entertainment News
Your Daily Blend of Entertainment News
Thank you for signing up to CinemaBlend. You will receive a verification email shortly.
There was a problem. Please refresh the page and try again.