Is X-Men: First Class Director Matthew Vaughn January Jones Baby's Daddy?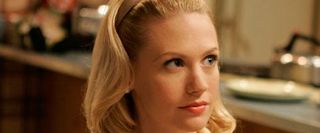 As Arnold Schwarzenegger proved to all of us earlier this week, celebrities can still make mistakes. January Jones announced on April 28th that she was pregnant. Could raging hormones be the reason why Jones treated the sweet and affable Zach Galifianakis like an asshole? Maybe, maybe not. But there is still one lingering question about this pregnancy that hasn't been answered; who is the father?
It's not SNL star Jason Sudeikis, because they broke up in January (how appropriate), and knowledgeable sources say he is not the father. According to sources deep inside the set of X-Men: First Class, which Jones stars in, say her and the director Mathew Vaughn were "very close." This could be a number of things.
This "information" could mean that director Vaughn is the baby daddy; or that they just enjoyed spending time together watching movies, playing hop-scotch, smoking dope; hell, how do I know what Hollywood folks do. Nonetheless, credible sources claim that the two spending time together meant something more than just a working friendship.
So, did they have an affair? Or is this just a badly thought up gossip story? This where my job as a celebrity gossip reporter can get misleading, because it's possible that none of this "inside info" is true. Here are the facts we have, so you can decide on your own:
FACT: Mathew Vaughn and his wife model Claudia Schiffer rented a house in Beverly Hills during the duration of filming for X-Men. Vaughn and his wife "abruptly" left when word came out about the Jones pregnancy, even though the couple was supposed to stay until the end of May. Automatically plenty of people would assume the worst. Yet, this is the problem with assuming they left because of Vaughn's "alleged" affair with Jones. Representatives of both Vaughn and Schiffer say they left because of their children's school schedule.
FACT: Sources from the X-Men production explained there would be no premiere for the film. There would only be a "cast screening" in New York City. This is where it gets weird, because everyone showed up except for the director. Vaughn explains his absence was due to tonsillitis, even though earlier that day he seemed to be quite healthy during his interview with Collider.com.
Who do we believe? Sources from E! Online say it is possible that Vaughn, during his time spent with the Mad Men actress on set, could have knocked her up. But, if what Vaugh and Schiffer's representatives say is true, then this is just a bad case of misunderstanding. Like the Arnold Schwarzenegger story earlier this week, we really need to start getting some straight answers before we assume anything. For now all we have is rumor, speculation, and questions.
Your Daily Blend of Entertainment News
Thank you for signing up to CinemaBlend. You will receive a verification email shortly.
There was a problem. Please refresh the page and try again.