Supported
LA Confidential And 11 Other Award-Winning Movies To Watch For Free On Plex
Award-winning dramas and documentaries streaming for free now…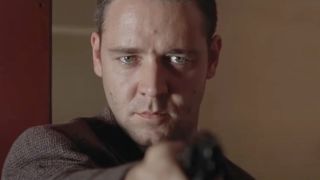 (Image credit: Warner Bros.)
With the awards season in full effect, people are surely eager to check out all the big nominees at the 2023 Academy Awards. But what if you want to go back and watch some of the classics, or even forgotten gems, that have taken home major awards at the Oscars and other ceremonies in the past? Well, if you're looking for a spot with plenty of options to choose from, look no further than Plex.
Whether you're trying to watch the neo-noir classic L.A. Confidential, check out the stellar documentary Man on Wire, or even revisit the original A Star Is Born, Plex has you covered. As part of our ongoing partnership with Plex, we are going to highlight some of the best offerings that are streaming for free (opens in new tab) throughout the month of March.
L.A. Confidential
Curtis Hanson's 1997 adaptation of James Ellroy's landmark crime novel L.A. Confidential centers on three police officers – Edmund Exley (Guy Pearce), Wendell White (Russell Crowe), and Jack Vincennes (Kevin Spacey) – as they try to get to the bottom of the murder of one of their own in 1950s Los Angeles. However, this proves to be no easy task in the "City of Angels," as corrupt officials, a snakey tabloid writer, and a woman with looks that could kill get in the way of the investigation and their personal lives.
L.A. Confidential took home two Academy Awards following its release, including Best Adapted Screenplay and Best Supporting Actress for Kim Basinger's portrayal of Lynn Bracken.
Stream L.A. Confidential on Plex. (opens in new tab)
Monster
In 2003, Patty Jenkins made her feature film directorial debut with the riveting biographical drama Monster, which saw Charlize Theron take on the role of the late serial killer Aileen Wuornos. The movie, which shed light on Wuornos' background, ongoing relationship with Selby Wall (Christina Ricci), and what led to her killing seven of her clients in the span of a little more than a year, has since gone down as one of the best true crime movies of the 21st century.
Theron ended up winning the Academy Award for Best Actress for her performance in Monster.
Stream Monster on Plex. (opens in new tab)
Man On Wire
In 1974, French tight-rope artist Philippe Petit pulled off one of the most daring stunts in New York City history when he walked between the Twin Towers, becoming an international sensation and legend in the process. James Marsh's 2008 documentary, Man on Wire, follows Petit as he recounts the death-defying stunt, everything that went into the planning process, and how he pulled it all off without the building's owner or local authorities finding out.
Man on Wire ended up winning the Academy Award for Best Documentary Feature, beating out tough competition like Werner Herzog's Encounters at the End of the World.
Stream Man on Wire on Plex. (opens in new tab)
Stagecoach
Often regarded as one of the most influential filmmakers of all time, John Ford had a certain knack for storytelling in the Western genre, and one of the best examples of that is his 1939 adventure film Stagecoach. Featuring John Wayne's breakout role of Ringo Kid, the movie follows a group of strangers traveling through dangerous territory where their only chance of survival is each other.
Nominated for a total of seven Academy Awards, Stagecoach ended up taking home Oscars for Best Supporting Actor (Thomas Mitchell) and Best Music.
Stream Stagecoach on Plex. (opens in new tab)
A Star Is Born (1937)
There have been a total of four different versions of A Star Is Born released over the years, with the most recent being the 2018 remake starring Bradley Cooper and Lady Gaga. But if you want to go back and see how it all started with William A. Wellman's 1937 original, you can do so right now. This version follows Esther Victoria Blodgett (Janet Gaynor) a farmgirl as she leaves her family's farm for a shot at fame in Hollywood. Along the way, she meets Norman Maine (Fredric March), a major star who becomes her mentor and lover.
The movie ended up winning two Academy Awards, including Best Original Story.
Stream A Star Is Born on Plex. (opens in new tab)
Sophie's Choice
Alan J. Pakula's 1982 drama Sophie's Choice follows Polish immigrant Zofia "Sophie" Zawistowski as she attempts to start a new life in a Brooklyn boarding house with her lover, Nathan Landau (Kevin Kline) and a terrible secret in the years following World War II.
Meryl Streep, who had already won a Best Supporting Actress Oscar for her performance in Kramer vs. Kramer, took home her first Academy Award for Best Actress for her role in Sophie's Choice.
Stream Sophie's Choice on Plex. (opens in new tab)
On Golden Pond
Released in 1981, Mark Rydell's On Golden Pond follows Norman Thayer (Henry Fonda) and his daughter, Chelsea (Jane Fonda) as they try to repair their fractured relationship at the family's idyllic summer home. If that wasn't enough for the pair, Chelsea brings her fiancé's son, Billy (Doug McKeon) to the quiet cabin, which ends up leading to more discoveries.
Henry Fonda and Katharine Hepburn took home Oscars for Best Actor and Best Actress, respectively, while screenwriter Ernest Thompson won the Academy Award for Best Adapted Screenplay.
Stream On Golden Pond on Plex. (opens in new tab)
Born Into Brothels: Calcutta's Red Light Kids
In her 2004 documentary, Born into Brothels: Calcutta's Red Light Kids, Zana Briski traveled to India to photograph child prostitutes, forming an intense bond with them in the process. Over the course of her stay there, Briski gave the children cameras of their own to document their lives, shedding light on a world not seen by many before.
Born into Brothels: Calcutta's Red Light Kids ended up winning multiple awards, including an Oscar for Best Documentary Feature in 2005.
Stream Born Into Brothels: Calcutta's Red Light Kids on Plex. (opens in new tab)
Cat Ballou
Elliot Silverstein's 1965 Western comedy (with elements of Greek theater) tells the story of Catherine "Cat" Ballou (Jane Fonda), a young woman who goes from aspiring teacher to gunslinger after an assassin named Tim Strawn (Lee Marvin) kills her father. Together with an elder cowboy named Kid Shelleen (also played by Marvin), the vengeful heroine sets out for justice.
Lee Marvin ended up taking home the Oscar for Best Actor for his dual role in Cat Ballou.
Stream Cat Ballou on Plex. (opens in new tab)
The Red Balloon
Directed by Albert Lamorisse, the 1956 French short film, The Red Balloon, follows a young Parisian boy named Pascal (Pascal Gillette) as he encounters and befriends a sentient balloon. Together, the boy and balloon explore the French capital, getting in all sorts of adventures, and bonding in the process.
The Red Balloon won an Oscar in 1957, but not for best short. Instead, it won in the Best Original Screenplay category, oddly enough.
Stream The Red Balloon on Plex. (opens in new tab)
Kon-Tiki (1950 Documentary)
The 1950 documentary, Kon-Tiki, serves to tell the story of the 1947 expedition of the same name led by Norwegian explorer Thor Heyerdahl (who also directed the film). The 77-minute documentary shows Heyerdahl build the raft that would take them from South America to the Polynesian Islands, as well as the journey itself, with commentary provided by the director throughout.
Kon-Tiki would go on to win a number of awards, including the Oscar for Best Documentary Feature in 1951.
Stream Kon-Tiki (1950 Documentary) on Plex. (opens in new tab)
Cyrano De Bergerac
There have been multiple adaptations of Edmond Rostand's 1897 play Cyrano de Bergerac, and one of the best is the 1950 version starring José Ferrer as the titular character. Directed by Michael Gordon, the movie follows Cyrano as he tries to help the handsome yet dim-witted Christian de Neuvillette (William Prince) win over Roxane (Mala Powers), a woman he secretly loves.
Ferrer ended up winning an Academy Award for his performance, one that also earned him countless other accolades.
Stream Cyrano de Bergerac on Plex. (opens in new tab)
This is just a small sampling of the award-winning films that are available to stream for free on Plex (opens in new tab), as there are countless decorated films from yesterday and today on the robust platform.
Your Daily Blend of Entertainment News
Philip grew up in Louisiana (not New Orleans) before moving to St. Louis after graduating from Louisiana State University-Shreveport. When he's not writing about movies or television, Philip can be found being chased by his three kids, telling his dogs to stop yelling at the mailman, or yelling about professional wrestling to his wife. If the stars properly align, he will talk about For Love Of The Game being the best baseball movie of all time.