The 15 Biggest TV Deaths Of 2014, Ranked In Order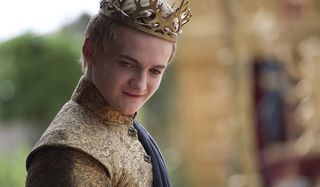 Every year, some major characters and fan favorites get killed off of our favorite shows, and every year we are surprised when some big names bite the dust on network and cable TV. This year was no different, although we believe the body count was unusually high. Here's to a successful year filled with shocking deaths, tragic deaths, vengeful deaths, epic deaths and tear-inducing deaths. Here at CinemaBlend, we've compiled a list of 2014's biggest TV deaths, and you can check them out below.
First, we would like to mention that there are plenty of spoilers in this list, so if you aren't caught up on your favorite TV programs, we suggest you turn away right now. That being said, all of these deaths occurred in 2014 and most of them hit the schedule months ago, so if you are all caught up on the likes of Game of Thrones, The Walking Dead, True Blood and many more, please proceed.
15. Johnny Crowder, Justified
It's hard not to feel like everyone on Justified has a horrible death coming to them sooner or later, but the feeling of doom and gloom was much more apparent surrounding Johnny Crowder, a career criminal with more ambition than balls and more anger than smarts. It's no surprise that Cousin Johnny was killed off during the fifth season of the hit series, which aired last spring, but the double-crossing zinger of an episode ending with Boyd putting a bullet squarely into his former lieutenant's temple was still jarring and insanely memorable.
14. Pierce, Community
Community lost several big cast members last year, but only one went out in epic fashion. Pierce's death was impactful on Community not only because it offered the opportunity for the character to go out boldy, in an episode filled with lie detectors and bequeathing, but also because it set up the future of the series. The episode is an important and fitting tribute to the character, and it also involves Troy nabbing Pierce's fortune along with a sailboat trip around the world, enabling him to leave the series, as well. Pierce's death was one of the first to kick off 2014, but its impact will still be felt when the show returns on Yahoo.
13. Alcide, True Blood
True Blood has always featured plenty of deaths. However, for seven seasons most of True Blood's most popular characters managed to avoid silver bullets and stakes. But in Season 7, the death toll started coming early. Alcide bit the dust during the third episode, leading our heroine, Sookie Stackhouse, to be devastated on top of having to deal with the Hep V epidemic. It was a shocking and effective moment in a series that wanted to go out with a bang.
12. Lorne Malvo, Fargo
Fargo did a great service to its audience when it pitted the tenacious Deputy Molly Solverson up against ruthless career hitman Lorne Malvo, who racked up a giant body count throughout the show's 10-episode run. Malvo's death on the series, while expected, included a wild chase scene, a bear trap and the unexpected twist of Colin Hanks' incompetent police officer-turned-mailman taking out the bag guy. Who couldn't get behind that ending?
11. Gemma, Sons of Anarchy
Gemma's another TV character that made it for an incredibly long time on a show that is rife with deaths and other tribulations. Gemma was able to make it so long due to her fierce desire to protect her family, no matter the cost. Unfortunately, this fierceness was also her downfall, as Gemma made the choice to kill Tara and then cover it up. Her son, Jax, obviously had to do something about this blatant fuck up and in one of the most cringe-inducingly heartbreaking scenes television has ever had to offer, Gemma met her downfall.
10. The Clown, American Horror Story: Freak Show
After producer Ryan Murphy spent months explaining to audiences that American Horror Story: Freak Show's clown was going to be the most horrifying character TV had ever seen, we finally met John Carroll Lynch's Twisty. Unfortunately, Twisty's tenure on the show was short-lived. We did get to see his twisted backstory, involving creepy circus performers and a botched suicide attempt before we said goodbye to TV's creepiest clown, which made his passing really mean something.
9. Zoe Barnes, House of Cards
Kate Mara's Zoe Barnes was a huge part of House of Cards during its first season on Netflix. People expected her story to continue during Season 2, which is why it was all the more shocking when Frank Underwood opted to clean up loose ends and push her onto a Metro track when a train car was coming during the first episode. The murder was brutal and callous but easily accomplished. Due to its timing and Zoe's importance in Netflix's series, it definitely deserves a spot on this list.
8. The Mother, How I Met Your Mother
Rumors abounded long before How I Met Your Mother's series ender aired that the long-awaited mother might die. Actress Cristin Milioti, who had the distinct honors of playing the mother, did the best she could to dissuade those fan theories, but sure enough, when the finale aired, death was the mother's fate. We may not have been totally shocked by the comedy's ender, but fans were still devastated. It's tough to wait for a character for nine seasons and then in the course of one episode, watch her quietly slip through your grasp.
7. Sara Lance, Arrow
Arrow's winter finale left us with a dead Oliver Queen, but while that character's journey doesn't actually seem to be over, Sara Lance seems to be permanently dead. The show took a note from House of Cards when it aired its first episode this fall. All seemed well, until she was shot full of arrows on a rooftop before she plummeted to the ground. Sara's death was tragic, and it set the rest of the season up for vivid storytelling and the introduction of Black Canary.
6. Nucky Thompson, Boardwalk Empire
Boardwalk Empire's shortened fifth season offered some of the most deliberate, chilling and emotional deaths we've seen in the series. From Chalky's decision to walk outside with Narcisse, to Nelson Van Alden's final, cornered breaths, to the impossible notion that Sally Wheet could have been in the wrong place at the wrong time, Boardwalk Empire ended its character's stories well. While Nucky's death wasn't shocking in the final moments of the drama, the way the story played out was completely engrossing. There was no other way Boardwalk Empire could have ended, and even Nucky knew it.
5. Beth, The Walking Dead
Beth wasn't the most famous or even the most popular character on The Walking Dead. Thanks to her relationship with Daryl and her personality, however, many really hoped she would get her happy ending. Sadly, that happy ending never came. She was lost during a midseason finale that was so emotional, cast members admitted it was the hardest thing they've ever had to shoot. She might be gone, but her memory will affect the surviving characters for a long time, especially Daryl.
4. Will Gardner, The Good Wife
We expect deaths on shows like True Blood and Sons of Anarchy, but one show we don't expect them on is The Good Wife, which delves into the world of courtroom, as well as politics. What makes the death of Will Gardner such a powerful blow to fans is the fact that Robert and Michelle King and the rest of the creative team were able to keep the character's exit quiet for months after he decided to leave the show. So when a young man on trial for murder killed Will during a random episode last spring, we were shocked and we were heavily affected. Few deaths can change a show in such an integral way, but Will Gardner's death has continued to shape the series 9 months later.
3. Jax, Sons Of Anarchy
Jax's death on Sons of Anarchy is another not wholly unexpected death on this list. What makes Jax's death special is the manner in which the character went out. Jax spent seven seasons trying to live by his deceased father John Teller's impossible ideals. Unfortunately, when a man realizes he is doomed or duped, there is often only one alternative. In a chase scene featuring numerous police, Jax opts to drive straight into an oncoming truck, similar to how his father went out. I'm not sure it's the ending we would have guessed for the character, but it's a fitting end for Sons of Anarchy and a tragic one for the fans who stuck around for all seven seasons.
2. Bill Compton, True Blood
Regardless of where you stand on True Blood's finale, Bill Compton's death was a huge blow for the series. True Blood was as much about Bill Compton's journey as it was about Sookie's and forcing his frequent lover to stake him felt about as gut-wrenching of an ending as the show could manage. Those who shipped Sookie and Bill were devastated, and the rest of us were left to wonder why... There are plenty of strange occurrences in a series based on the supernatural, and True Blood managed to remain its particular brand of campy until the very end.
1. Joffrey, Game Of Thrones
I think it says something about the number of deaths on television this year that epic moments from Game of Thrones like Oberyn Martell's death and tragic moments, including Ygritte's ultimate downfall, didn't even make this list. But nothing could compare to the impact Joffrey's death had on audiences this year, bringing on a sort of feeling of sick pleasure from those who were more than happy to see the monster's ultimate downfall. Joffrey certainly brought flavor to Game of Thrones, and while it's hard to say the character didn't deserve his ultimate downfall, the show will definitely miss his peculiar brand of cruelty. Rest in peace, boy-king.
RIP 2014 TV characters
TV featured a ton of deaths in 2014. It would be a lot of work to fully list every major and minor character who faltered due to battle, murder, disease and misfortune, but we did our best to put together an inclusive list of the biggest deaths this year. Without further ado, here are a few more big characters we will miss:
If you feel there is anyone missing from the list who should have been included, feel free to let us know in the comments, below.
Amazing Race & Top Chef superfan with a pinch of Disney fairy dust thrown in. If you've created a rom-com I've probably watched it.
Your Daily Blend of Entertainment News
Thank you for signing up to CinemaBlend. You will receive a verification email shortly.
There was a problem. Please refresh the page and try again.