What It's Like To Be In An SNL Sketch That Bombs, According To Tina Fey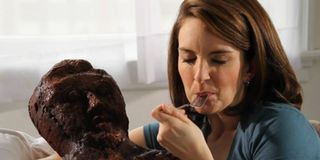 Tina Fey is one of the most well-known cast members to ever grace the stage over at Saturday Night Live. She's gone on to have a prolific career outside of the late night sketch comedy series, but although she's seen all kinds of success, she's still bombed a time or two. In fact, being a part of a sketch that just doesn't work is a hallmark of Saturday Night Live, and Tina Fey recently told David Letterman--yes David Letterman--what it's like to be in an SNL sketch that totally bombs. She makes a great analogy, and you can check it out, below.
That parachute analogy is perfect. I honestly have no idea what it feels like to totally suck at sketch comedy---well I mean I guess I do, but I haven't ever tried to put myself out there to suck at it in front of the masses. However, I do understand the idea of free-falling and knowing that even if things don't work out exactly, you will probably come out the other side alright. I also love that Rachel Dratch was often in cahoots with Tina Fey during those moments. In Fey's interview with David Letterman (available over at THR), she reveals that she still keeps in contact with a lot of the ladies that were on Saturday Night Live around her time (Maya Rudolph, Emily Spivey, Paula Pell, Amy Poehler, Ana Gasteyer, Rachel Dratch), so they are all still bonded by those whole deer in headlights horrible sketch, and presumably the great SNL moments, too.
I wish Tina Fey had elaborated a bit further on which two sketches were truly horrible during her time on Saturday Night Live, but no cast is truly immune to bad sketches. (Note, the image from brownie husband used in this story is not a shot at that sketch, which I think is hilarious.) That's the thing about SNL. Each show has to run for a certain amount of time, and since the show airs live, there's always one or two sketches at the end of the night that may have been cut on another night. In addition, there are generally a few sketches that just work during dress rehearsal that just don't hit nearly as hard during the main broadcast thanks to the timing of the jokes or a generally tough crowd. The comedians can always tell when things are bombing, but it's not as if Fey or even today's cast can just say, "forget it." They have to power through.
Of course, Tina Fey has become better known for the good sketches and characters she played rather than the ones that bombed. She notably played Sarah Palin and hosted the "Weekend Update" segments during her time on the air. She also was the head writer on the show for a time, before branching off from SNL and going on to create 30 Rock. If it took a few bombs to get there, so be it.
New episodes of SNL air on Saturdays at 11:30 p.m. ET, only on NBC. To find out who is set to host soon, check out our full guide.
Amazing Race & Top Chef superfan with a pinch of Disney fairy dust thrown in. If you've created a rom-com I've probably watched it.
Your Daily Blend of Entertainment News
Thank you for signing up to CinemaBlend. You will receive a verification email shortly.
There was a problem. Please refresh the page and try again.