Why Walking Dead Fans Don't Need To Worry About Danai Gurira's Avengers Casting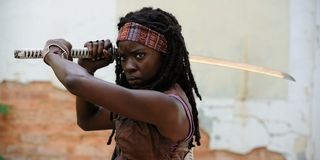 Danai Gurira has been a star of the small screen for the last several years thanks to her role as the zombie-slaying badass Michonne on The Walking Dead, but she's also soon to become part of one of the biggest film franchises in the world. We just learned that she'll appear in Avengers: Infinity War on top of her role in Black Panther, which really makes it sound like she'll be awfully busy in the not-too-distant future. That said, Walking Dead fans don't need to start panicking that Gurira's schedule means Michonne will bite the dust in Season 8. As it turns out, Infinity War and The Walking Dead aren't filming too far apart.
Both The Walking Dead and Avengers: Infinity War are filming in Atlanta, and it's quite likely that Danai Gurira will be able to balance her work as Michonne on The Walking Dead and her work as the elite Wakandan fighter Okoye in the Marvel Cinematic Universe. The Walking Dead tends to jump around, and even the biggest stars don't appear in every single episode, so the show could almost certainly give Gurira some extra time off if necessary without killing Michonne off.
Conversely, we don't actually know how much of a part Gurira will have to play in Infinity War. The movie is already set to be filled with the biggest heroes of the MCU (you can see the full list here), and Okoye might only appear briefly. For all we know, she'll simply be on screen for a few moments in Wakanda before Black Panther is pulled into the action with the Avengers. If that's the case, filming probably wouldn't affect her work on The Walking Dead in any major way. All things considered, Gurira's casting in Avengers: Infinity War sounds like fantastic news for her and her fans, not a reason for Walking Dead viewers to start preparing for Michonne's untimely demise.
The news that Danai Gurira will appear in Infinity War does at least guarantee that Okoye won't be killed off in Black Panther, which will hit theaters before the next Avengers film in 2018. The trailer for Black Panther points to a lot of action and danger in Wakanda, and there was no way to know if Okoye would survive beyond the final credits. The question now is if she'll survive the events of Infinity War.
If Danai Gurira does need to take a break from The Walking Dead for the MCU, I hope it will be a quick break. Rick is going to need Michonne's brand of badass now that Alexandria, Hilltop, and the Kingdom are openly at war with Negan and the Saviors. The premiere is still a ways off, but our breakdown of what we know so far about The Walking Dead Season 8 can give you a peek ahead. Our summer TV premiere schedule can also show your viewing options while you wait for the zombie apocalypse to return to the airwaves.
Resident of One Chicago, Bachelor Nation, and Cleveland. Has opinions about crossovers, Star Wars, and superheroes. Will not time travel.
Your Daily Blend of Entertainment News
Thank you for signing up to CinemaBlend. You will receive a verification email shortly.
There was a problem. Please refresh the page and try again.