Doctor Who: A Major Character's Fate May Have Just Been Sealed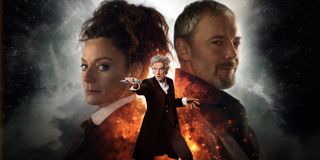 The following contains spoilers for the latest episode of Doctor Who.
When Doctor Who winds up for a season finale, it tends to throw a cliffhanger that feels akin to driving off a cliff and waiting to find your way out. However, this has been the season of cliffhangers, so something very special would have had to happen by the end of "World and Time Enough" to top it all. Well, Steven Moffat's writing and show-running skills have done just that, with an ending that just might have killed off one of season 10's central characters: dear companion Bill Potts.
Technically, Bill should have been dead in act one, as she had a hole blown clean through her chest during Missy's big test as a hero. But some mysterious persons took Bill's corpse and promised to "repair" her, and repair they did. As it turns out, The Doctor and company have found themselves on a ship rapidly trying to escape from a black hole, and there's some grave happening going on at the other end of the ship. Not only has a lot of time passed, but the Mondasian Cybermen are secretly being created -- with Bill becoming one of their numbers.
As if having the heart of a Cyberman wasn't enough of a problem for Bill to contend with, she's now undergone full conversion. Unless Steven Moffat has some sort of ace up his sleeve, and he's been known to have such cards in his deck, it looks like she's going to become the second companion to meet their fate through cyber-conversion. The first, naturally, was Clara's boyfriend, Danny Pink, who became a posthumous Cyberman in the two-part season finale for Season 8. While we knew that actor Pearl Mackey was possibly going to be leaving after this season, we weren't sure if it'd be a bittersweet or even happy circumstance. This week's events seem to trend toward bittersweet, if not downright sad.
Of course, Bill's condition isn't the biggest problem The Doctor will face in his final regular season hour of Doctor Who, as Missy and The Master seem to be teasing something big in the offing. Between the mysterious circumstances of The Master being present on the ship, as well as the scores of Mondasian Cybermen looking to invade and convert the rest of the ship, there's going to a lot of potential action and answers doled out in the extended episode. But for now, we're going to take a moment and catch our breath, as that last shot of Bill's Cyberman form crying was pretty damned sad.
Doctor Who concludes its tenth season next Saturday at 9 PM EST, on BBC America.
CinemaBlend's James Bond (expert). Also versed in Large Scale Aggressors, time travel, and Guillermo del Toro. He fights for The User.
Your Daily Blend of Entertainment News
Thank you for signing up to CinemaBlend. You will receive a verification email shortly.
There was a problem. Please refresh the page and try again.