2007 Fall TV Preview: Criminal Minds On CBS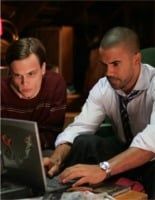 Criminal Minds - Season 3
Premieres: Wednesday, September 26th at 9 p.m. EST
Network: CBS
Creator(s):Edward Allen Bernero, Mark Gordon, Deborah Spera
Starring:A.J. Cook, Kirsten Vangsness, Matthew Gray Gubler, Paget Brewster, Shemar Moore, Joe Mantegna
Website: CBS.com
It's FBI Profilers, all the time in this edgy drama about the Behavior Analysis Unit, a group that analyzes the country's most twisted criminals and tries to anticipate their next move before they make it. Up until now, Special Agent Aaron Hotchner (Thomas Gibson) has helmed the group. He's a family guy whose biggest strength is his ability to gain peoples' trust. Working with him: Special Agent Derek Morgan (Shemar Moore), an expert on obsessional crimes; Special Agent Dr. Spencer Reid (Matthew Gray Gubler), a genius at work, but a wallflower at parties (forget that – he wouldn't even GO to a party); Emily Prentiss (Paget Brewster), the daughter of diplomats who must prove her worth to the team; Penelope Garcia (Kirsten Vangsness), a computer geek who researches cases; and Jennifer "JJ" Jareau (A.J. Cook), a gutsy young agent who's also the unit liaison for the team. Working together, these folks try to decode the warped minds that commit horrendous crimes. It's not pretty.
Even people who've never watched this show have heard the buzz about Mandy Patinkin leaving. Replacing him is the extremely talented Joe Mantegna, who'll play David Rossi. Also hanging around the exit door is Thomas Gibson, who, according to an Entertainment Weekly story, will say farewell in Season Three's premiere episode.
It's amazing that the crime drama genre continues to steam merrily along every year. Apparently, we're a nation obsessed with, well, obsessed criminals. Is this a good thing? Who knows, but at least it keeps us off the streets providing headline fodder for yet more crime drama shows. And if a show makes it past Season One…well, just keep your eye out for 53 spin-offs of Criminal Minds, akin to CSI and Law & Order. You heard it here first.
Your Daily Blend of Entertainment News
Thank you for signing up to CinemaBlend. You will receive a verification email shortly.
There was a problem. Please refresh the page and try again.