2007 Fall TV Preview: Friday Night Lights On NBC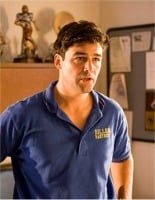 Friday Night Lights - Season 2
Premieres: Friday, October 5th at 9 p.m. EST
Network:NBC
Creator(s):Sarah Aubrey, David Nevins, Peter Berg, Brian Grazer, Jason Katims, Nan L. Bernstein
Starring:Kyle Chandler, Connie Britton, Scott Porter, Taylor Kitsch, Zach Gilford, Adrianne Palicki, Aimee Teegarden, Gaius Charles, Jesse Plemons, Minka Kelly
Website: NBC.com
Riffing off the 2004 movie "Friday Night Lights," this one-hour drama centers on the small, dusty town of Dillon, Texas, where people live and die by the high school football team. The townsfolk REALLY want the team to win that state championship. That's a lot of pressure, not only for the kids, but also for Coach Eric Taylor (Kyle Chandler).
After five years as the offensive coordinator for the Dillon Panthers, Taylor was promoted to head coach. In addition to the usual football stuff, the job also entails playing therapist to the kids who come through his lineup – some of whom have really tough lives. Coach has also learned how to take things with a grain of salt, since everyone from the diner waitress to the gas station clerk feels compelled to tell him how to do his job. Meanwhile, the local media circles like vultures, waiting for him to fail.
Connie Britton plays Coach Taylor's wife, Tami. You might remember her as Nikki on Spin City, but she's much smarter and more life-savvy in this role. The scenes Tami and Eric have with their daughter, Julie (Aimee Teegarden), seem so real you'd swear you're looking through someone's dining room window.
The guys on the football team all have their own problems: nice-guy quarterback Jason Street (Scott Porter) was headed for a Notre Dame scholarship, then suffered a spinal injury that landed him in a wheelchair; running back Brian "Smash" Williams (Gaius Charles) is a superb athlete, but also has a massive ego; backup quarterback Matt Saracen (Zach Gilford) suddenly had to step up and take over for Jason; and rough-around-the-edges fullback Tim Riggins (Taylor Kitsch), has zero support in the way of family.
Unlike the movie, the women in the TV series get some air-time, including cheerleaders Lyla (Minka Kelly) and flirty Tyra (Adrienne Palicki). Just like real life, no one in this series is perfect. They're all complicated humans who sometimes do things on raw emotion, like when Jason's girlfriend, Lyla, slept with his best friend, Tim, while Jason was lying paralyzed in a hospital.
No one is a stock cheerleader, jock, nerd, bad boy,
[[ fill blank in the ]] , and one of the show's strengths is that it trusts viewers to be smart enough to accept the characters as real people. The show's documentary-style filming helps in that regard, too.
Movies don't always translate well into TV shows, but that's not the case here. It translates just fine, thank you very much. And lest you think it's strictly about football, that's not the case either. It's about people struggling to survive through tough times and keep their sanity at the same time.
Last season ended with the Panthers winning the state high-school football championship, Coach Taylor accepting a job at an Austin college, and Tami revealing that she's pregnant.
This season picks up eight months later, right before football season starts. In the first episode, Tami has her baby, and she and the Coach are wondering if a long-distance relationship is going to work. Tami's younger sister comes to town to help with the new baby.
Tension grows between egomaniacal Smash and quarterback Matt, and no one is sure if new Coach McGregor (Chris Mulkey) knows what he's doing. Newly born-again Lyla and hard-drinking Tim travel to Mexico with Jason, seeking a cure for his paralysis. Tyra and Landry (Jesse Plemons) become close when she fears her attempted rapist has returned. And Julie finds herself attracted to a young musician (Alejandro Rose-Garcia).
While critically acclaimed as one of the best new shows last fall, Friday Night Lights barely survived into season two, because, simply put, no one was watching it. Kudos to NBC for keeping it on the 2007 schedule, and for moving it to Friday night, where, hopefully, it'll find a bigger fan base. Just watch one episode, and you'll see where I'm coming from.
Your Daily Blend of Entertainment News
Thank you for signing up to CinemaBlend. You will receive a verification email shortly.
There was a problem. Please refresh the page and try again.