The Simpsons Producers Honor Penny Marshall, The Show's First Guest Star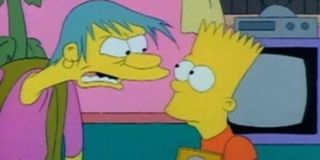 Showbiz lost a beloved actress recently with the death of Penny Marshall. She was arguably best known for her work as co-leading lady on Laverne & Shirley and director of A League of Her Own, but she also holds a distinction when it comes to The Simpsons. Marshall was the very first guest star ever to contribute to an episode of the series, as she played The Babysitter Bandit way back in Season 1, circa 1990. Simpsons producers took to social media to honor her.
Let's start with David Silverman, who has been on board The Simpsons from the very beginning:
David Silverman's tweet shows The Babysitter Bandit in all her glory! Yes, Penny Marshall voiced Ms. Botz, a.k.a. a wanted burglar known as The Babysitter Bandit. She was tasked with watching the Simpsons kids while Marge and Homer were out at a fancy restaurant, but Bart and Lisa realized that their babysitter was not who she seemed.
Unfortunately, they didn't realize until Ms. Botz was already inside the house, and they were hunted through the house and tied up until Maggie came to the rescue, although the rescue didn't end with Maggie shooting anybody. Bart did the honors of whacking the Bandit with a baseball bat.
The character could have been a forgettable villain from nearly three decades ago if not voiced by somebody other than Penny Marshall, and it's only fitting that the Simpsons producers remember her after her passing. Even if The Babysitter Bandit had been less memorable, Marshall holds a distinction as the first of many, many guest stars.
Executive producer and showrunner Al Jean shared his own social media tribute, posting this on Twitter:
Al Jean's image selection shows The Babysitter Bandit after she has already tied up Bart and Lisa, and she clearly already made the fateful mistake that would lead to her capture: not tying up Maggie. The resourceful baby would manage to escape from her crib and untie Lisa. The three Simpsons kids lured their babysitter into a dark room, where Bart took her out with a baseball bat.
Alas, The Babysitter Bandit did not remain captured for long. Homer freed her after returning home, not knowing her real identity. The Bandit escaped before the authorities could arrest her, but unfortunately, she never returned to burgle more houses or seek her revenge on the Simpsons kids. Still, her one appearance is certainly memorable.
As the first guest star ever to lend her voice to The Simpsons, Penny Marshall is guaranteed to have an enduring legacy on the long-running animated show as well as her more famous projects. Our thoughts here at CinemaBlend go out to her family and friends in what must be a difficult time.
Resident of One Chicago, Bachelor Nation, and Cleveland. Has opinions about crossovers, Star Wars, and superheroes. Will not time travel.
Your Daily Blend of Entertainment News
Thank you for signing up to CinemaBlend. You will receive a verification email shortly.
There was a problem. Please refresh the page and try again.