Saturday Night Live: The 9 Best SNL Cold Opens Ever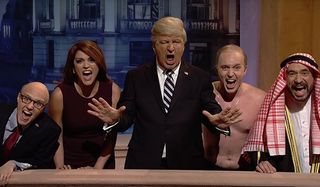 Since its inception, for 44 years, Saturday Night Live has opened its show with legendary sketches known as the "cold open." More often than not, the cold open is topical, usually political, and always ends with the shows iconic intro, "Live from New York, it's Saturday Night!"
For the first season, the line was always delivered by Chevy Chase, but once he left the show part-way through the second season, the tradition of different cast members yelling the intro began. Today, it is often delivered by more than one person and it's become the most famous lines in television history.
So with over 850 cold opens now in the history of the show, which ones rise above the rest? Which ones are the funniest? We broke it down with our favorites.
The Wolverines (John Belushi and Michael O'Donoghue)
There is really no place to start other than at the very beginning, with the very first cold open in Saturday Night Live's history, the one that kicked off the series premiere on October 11th, 1975. Head writer Michael O'Donoghue plays a man teaching English to an immigrant from an undefined, but clearly Eastern European country, played by the legendary John Belushi, that ends with both characters dead on stage and Chevy Chase emerging to deliver the first ever "Live from New York!" line.
First Presidential Debate: Al Gore and George W. Bush (Will Ferrell and Darryl Hammond)
Depending on whether or not you spell "cowbell" as one or two words, the most famous single word uttered in SNL history was said on October 7th, 2000 when Will Ferrell, doing his unbelievably funny impression of then-candidate George W. Bush during a debate with Al Gore, replied to a question with one word: "Strategery." Classic stuff.
Sarah Palin and Hillary Address the Nation (Tina Fey and Amy Poehler)
When Sarah Palin exploded into the national spotlight after John McCain made her his "maverick" pick for Vice Presidential candidate in the 2008 election, it only took a couple minutes before people immediately started imagining Saturday Night Live alum Tina Fey returning to the show to play her. Everyone's dreams came true a few weeks later when Tina Fey made her first appearance as the VP candidate in the fall of '08. Her best appearance came later when she was joined by fellow SNL alum Amy Poehler, playing Hillary Clinton in a joint address for the ages.
Ford on the Phone (Chevy Chase)
Chevy Chase was the king of cold open in SNL's first season, and often those opens included his hilarious impression of then-President Gerald Ford doing something stupid, then falling over, then standing up to deliver the "Live from New York" line. The funniest of all of those opened with Chase as Ford sitting at his desk in the Oval Office and getting confused by the ringing phones and his popularity charts.
Joint Session Cold Open (Dana Carvey and Michael J. Fox)
Like Gerald Ford, the general public didn't think very highly of the intelligence of George H.W. Bush's Vice President, Dan Quayle. Of course, Saturday Night Live jumped on this and consistently mocked him for his intellectual gaffes, like spelling potato with an "e" at the end. And then there was this cold open, with Dana Carvey doing his amazing Bush impression and Michael J. Fox as Quayle, unsure when to clap. Fox gets huge laughs and doesn't even have to say a word. It's brilliant.
Trump Divorce Cold Open (Phil Hartman and Jan Hooks)
Before Alec Baldwin became Saturday Night Live's Donald Trump impersonator, the job fell to SNL legend Phil Hartman. 1990 was a far more innocent time for Trump impersonators. Mocking his personal life, with torn straight from the gossip pages has less bite than mocking his foreign policy with stories ripped straight from the front page. Despite that, Hartman's impression is a classic.
Donald Trump Press Conference Cold Open (Alec Baldwin)
Mocking the President's political life is pretty great too and Alec Baldwin's impersonation has become the stuff of legends. There have been countless cold opens starring Baldwin as Trump, but the best is the one that happened days before President Trump's inauguration when Baldwin answered questions about the supposed "pee pee" tape at Trump's first press conference.
Cold Open - SNL 40th Anniversary Special (Jimmy Fallon and Justin Timberlake)
In February of 2015, on a Sunday night, Saturday Night Live celebrated its 40th anniversary with a star-studded event that brought back almost every single living current and former cast member. To open the show, SNL alum Jimmy Fallon and one of the great hosts in the show's history, Justin Timberlake opened the show with an incredible cold open that incorporated dozens of the show's legendary catchphrases and characters before ending with a musical number introducing the show. It's not the funniest cold open of all time, but for fans of the show, it was a perfect way to start the night.
9/11 Tribute With Mayor Giuliani (Rudy Giuliani and Paul Simon)
18 days after the worst terrorist attack in American history and the worst day in New York's history, Mayor Rudy Giuliani appeared in the Season 27 premiere cold open alongside a group of New York City's first responders, many of whom had responded to World Trade Center just weeks before.
The mayor, who was incredibly popular nationwide in the wake of the attack, spoke eloquently about the tragic events and the men and women who were killed and those that saved many other lives before the camera panned over to New York native and frequent Saturday Night Live contributor Paul Simon, who played a heartbreaking rendition of his song "The Boxer." It's not a funny cold open, but it is easily one of the best, making it ok for America to laugh again.
Like musical guests, Weekend Update, and fake commercials, the cold open is one of the most enduring aspects of Saturday Night Live. For millions of kids that stayed up too late and caught their first glimpse of the show, it was the first bit they ever saw. For millions of people that still watch the show well into adulthood, it's the most talked about skit at the water cooler on Monday morning most of the time and it likely will be for a long time yet to come.
Saturday Night Live returns for its 45th season this fall on NBC.
Your Daily Blend of Entertainment News
Hugh Scott doesn't believe aliens are hidden at Area 51 or that Elvis is alive, but he does believe birds are real and Meghan Markle isn't treated fairly by the tabloids. He's been writing about music, movies, and celebrities for most of his adult life after realizing stocking shelves in a paper warehouse in college wasn't all it was cracked up to be.
Your Daily Blend of Entertainment News
Thank you for signing up to CinemaBlend. You will receive a verification email shortly.
There was a problem. Please refresh the page and try again.