90210 Preview: Diagnosis Senioritis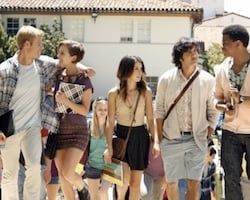 It's senior year for the 90210 gang and The CW promises "staggering new heights and terrifying new depths" for the series' third season. Read on for more information and some video promos.
For the original Beverly Hills, 90210 gang, senior year held plenty of drama, what with drunken prom escapades, master key snafus and love triangles. From the CW's description below and the promos further down, it seems the 90210 kids are in for even more shenanigans in their senior year.
90210 Season 3 premieres Monday, September 13 @ 8pm on The CW.
CLICK HERE to view the 2010 Fall TV Premiere Schedule.
Image 1 of 21
Image 2 of 21
Image 3 of 21
Image 4 of 21
Image 5 of 21
Image 6 of 21
Image 7 of 21
Image 8 of 21
Image 9 of 21
Image 10 of 21
Image 11 of 21
Image 12 of 21
Image 13 of 21
Image 14 of 21
Image 15 of 21
Image 16 of 21
Image 17 of 21
Image 18 of 21
Image 19 of 21
Image 20 of 21
Image 21 of 21