AMC Restores Mad Men Running Length For Upcoming Season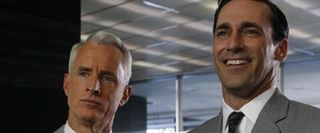 There's been no shortage of drama circling the upcoming fifth season of Mad Men, and I don't mean the kind involving angsty Don Draper. Negotiations for series creator Matthew Weiner to return were tense, to say the least, with it rumored at one point that the show would go on with or without him. The parties involved butted heads about budget, product placement, and even running time. Specifically, AMC wanted a few minutes trimmed from each episode so they could fit in more commercials. Even once Weiner and AMC came to terms, it looked like Mad Men fans were going to be treated to slightly shorter episodes when the show returned. Now, however, it seems that AMC has changed their mind. Variety is reporting that the fifth-season episodes will run at their full 47 minutes, rather than the 45 minutes that had been compromised on earlier this year.
Weiner seemed very pleased to announce the change (or change back, rather) during the Emmy Elite Showrunners breakfast, hosted by Variety at the Four Seasons Hotel in Beverly Hills. Weiner said, "I don't know how they managed to make that work out ... It was a lot of worry. I'm so thrilled." Chalk that one up as a victory for Weiner. AMC is probably also glad for some happy press, given that the last few months have been filled with controversy including budget cuts on Breaking Bad and The Walking Dead, not to mention the departure of showrunner Frank Darabont from AMC's hit zombie drama.
Of course, it's only two minutes. Most fans probably wouldn't have even noticed the change. What do you think? Was Matthew Weiner right to try to draw a line in the sand when it came to trimming the show? Or was AMC justified in trying to cut costs where they could? Sound off over on TV Blend's Facebook page.
Mad Men will return to AMC in 2012, likely in March.
Your Daily Blend of Entertainment News