The Amazing Race 19 Watch: Release the Brake!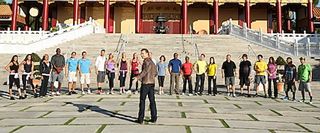 Last week, five teams started out in Denmark where they took a spin around Legoland. From there they passed straight through Germany on the way to Belgium, where they stripped to their skin and went through a series of very awkward and revealing bodybuilding poses. Amani and Marcus had their best leg yet, finishing in first place for the second time this season. However, this was one of those "2-in-1" legs, meaning that Leg Ten started the moment Leg Nine ended, and they were on their way before another team had even finished.
So it's official: the home stretch has begun. With only three episodes left this season (including this one) and two teams still to be eliminated, there will be no more reprieves, no more second chances. From this point on, mistake-free racing is the order of the day.
Starting Line - Parc Elisabeth in Brussels, where teams were met with Phil and an oompah band before being summarily sent on their way again. We saw Amani and Marcus receive their next clue last week, but only now do we see where they are going next: the Ford Proving Grounds in the town of Lommel, Belgium. Just to make the Leg Nine standings official: the second team to finish were Ernie and Cindy, followed by Jeremy and Sandy, Andy and Tommy and Bill and Cathi. The bodybuilding challenge really put those last two teams behind.
Clue #1 was this leg's Roadblock. The Ford Proving Ground, which was established in 1964, was built in Lommel so that it would be nearly equadistant from Ford's production plants in England and Germany. It remains to this day the site where "some of Ford's most popular vehicles" are put through their paces. In the Roadblock, one team member had to test-drive a Ford Mustang, accelerate it up to 100 mph, and then brake at a designated spot. Then they had to go through a slalom course in 16 seconds or less, and would finish up by performing two victory "doughnuts" before getting their next clue.
Ernie and Cindy got better directions to Lommel than Amani and Marcus, so they were the first once to the FPG, followed by Jeremy and Sandy. The slalom course was extremely difficult for Ernie, who could only watch as their lead evaporated. However, he was still able to become the first one to finish, though Jeremy was only minutes behind. The next clue directed them to drive to the city of Gent and search the Burgstaat-Hoofdburg Castle for the next clue.
Clue #2 was this leg's Detour. The choices: Water and Waffle. In the former, teams used provided materials (pontoons, rope and wood) to build a raft to search the Lieve Canal for two halves to their next clue. In the latter, teams had to build a waffle stand and then bake 18 Belgian waffles (yum!) to the attending chef's satisfaction before receiving their next clue. I wouldn't even have to think about which option I'd choose, because I love to cook and bake. These teams, however, made making waffles look a lot harder than it actually is. Anyway, after completing the Detour, teams were then told to make their way to the Muur van Geraardsbergen, a steep, narrow, cobblestoned, 92-mile road that is famous for being part of the cycling race known as the Ronde van Vlaanderen.
However, cycling is not on the docket for this leg. It's actually pigeon racing, another popular sport in Belgium. (Who knew?) The teams' final challenge was to release 100 homing pigeons on top of the Muur and then chase the flock to a specified address that they were given immediately afterward. Once at the address, the clue could be found tied around the legs of one or more of the pigeons. The clue in question was the location of the Pit Stop.
Leg Ten's Pit Stop was a monument known as the Atomium, which was built in Brussels for the 1958 World's Fair. It's shaped a lot like one of those plastic atomic models you remember from chemistry class, only much larger and shinier. In fact, each of the 12 interlocking spheres are 18 meters in diameter, and can be accessed by escalator. That looks like a cool place to visit.
Here is the order in which the remaining teams finished, along with some of their more notable highlights.
#1. Andy and Tommy - After a couple of bumps in the road, the snowboarders regained the lead. They had to come from way down to do it, though, and it was the Detour where they made their big move. While the dating couples were floundering in their waffle stands, Andy and Tommy immediately opted for the raft-building, and they had their raft assembled and their clues collected in record time.
I've tried to find a reason not to like them, but I just can't. Yes, their overt devoutness can grate a little bit, but thankfully, they haven't gone all-out with that like they have on Survivor this season. They are just so jovial and carefree that you can't help but root for them, and besides that, they're smart. Case in point: they won their sixth leg out of ten. They've already scored vacations to Ireland, Dubai and the British Virgin Islands, not to mention $5,000 in cash (each) and $15,000 (to share) from Discover Card. Add to that maybe the coolest prize yet: they each win a brand new Ford Mustang. I'm so jealous!
#2. Jeremy and Sandy - I liked Jeremy this leg. He is a self-professed "car guy", so the Ford challenge was right in his wheelhouse. He certainly had a lot more fun doing it than Ernie, not the least of which was because the professional driver who trained Jeremy was a lot more fun, compaired to Ernie's pro who looked like he hadn't smiled in years.
Sandy, on the other hand, seems like the kind of person who tends to give up quickly. During the waffle challenge, they were not allowed to pass through because of some very minute details (namely, having two waffles juxtaposed in the display case), and she got increasingly frustrated, even suggesting switching tasks despite the fact that that would definitely put them behind everyone else. However, Jeremy kept a cool head and they were able to finish in a very respectable second place, their highest finish since being the runner-up in Leg One. They are now the only team remaining who has not won a leg. If I had to pick a favorite for who will be the last team eliminated, Jeremy and Sandy are it.
#3. Ernie and Cindy - Cindy's pushy side surfaced a little bit this leg, but not to an alarming degree, and not to a level that can't be attributed to stress and travel-weariness. Despite Ernie's shortcomings as a racecar driver, he's a stand-up guy, and he and his winsome bride-to-be were the only team to be proficient at waffle-making. However, Ernie looks like he's beginning to get a little bit frazzled, not only by the race but by Cindy's demanding nature.
I've said it before, and I'll say it again. To make it through the first half of the race, you need luck. To make it through the second half, you need stamina. And if there is one thing Ernie and Cindy are not lacking, it's stamina. I remain convinced that we haven't seen their best, and that they will be giving Andy and Tommy a run for their money before all is said and done.
#4. Amani and Marcus - After getting lost between Brussels and Lommel, Amani and Marcus found themselves in third place after Marcus was able to finish the Ford challenge just before Tommy. The smile on Marcus's face after doing the doughnuts was infectious. That smile vanished, however, when he had to balance his tall, muscular body on a ramshackle-looking raft along with his wife (who is not skinny either).
Once again, the ex-NFL'er and his spouse were spared elimination because they raced just a little bit better than one other team. They have been yo-yo-ing from the top of the pack to the bottom all season, and now they're at the back with only one leg to go. They suck at map-reading, and all it will take is one wrong turn at the wrong time, and they will find themselves in the "close but no cigar" category. I, for one, would love for them to be there at the end.
The following team was eliminated:
#5. Bill and Cathi - Trailing the pack the whole way, I worried about Bill's ability to road-test a Ford Mustang to the high-octane level of expectation that the challenge demanded. (One does not equate farmer folk in their 60's with having lead feet.) However, if Bill did have any difficulty, it wasn't shown due to lack of time. By the time they reached the Hoofdburg, time was definitely not on their side, and ultimately, they were unable to overcome the time difference between themselves and the other teams.
I cannot say enough about how much I respect Bill and Cathi. Given their age, I expected them to do what so many "older" couples have done in the past, and that is to be out in the first few legs. They never lost their cool, they were never anything but upbeat and cordial to everyone they met, and they are an example to be followed. There was an awesome moment when they were sailing their raft on the canal when Bill told a quizzical-looking passer-by that this was his and Cathi's "first date". That's so awesome. I hope their kids and grandkids know just how lucky they are to have people like that in their family.
Next week: the journey back to the U.S. makes its final stop in the country of Panama.
Your Daily Blend of Entertainment News
Thank you for signing up to CinemaBlend. You will receive a verification email shortly.
There was a problem. Please refresh the page and try again.