American Dad Season 7 Premiere Preview: Hot Water With Cee Lo Green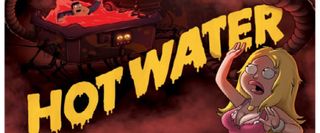 After his success/failure/success with Family Guy, Seth MacFarlane's second hit animated comedy to hit Fox Sundays is about to enter its seventh season with no signs of slowing down. The show is about conservative CIA agent and family man, Stan Smith as the titular American Dad trying to take care of his band of misfit family members, which includes a wife, a son, a daughter, an alien and talking fish with German accent. Fox just released a tease for the "Hot Water" season premiere and it showcases their first guest star of the season.
Yep. First week, first guest voice and it's none other than singer-songwriter Cee Lo Green (other guests stars lined up for the upcoming season include, Patrick Stewart, David Boreanaz, Emily Deschanel, Sarah Michelle Gellar, Alyson Hannigan, Amy Sedaris, and Kathy Griffin). I actually had the privilege of catching this episode in it's entirety and you can read the live-blog of the hilarious panel as well as a small recap/review of the season opener here (opens in new tab).
As you can see (if you hopped over to read) or may have guessed with Cee Lo Green as the guest star, we're in for a lot of music in this round of American Dad. Actually, I was a little taken aback by just how much music was in the episode, even if they aren't billing it as such, this is a full-on musical with each and every one of the characters (especially Green as the demonic hot tub) getting their chance to unleash their pipes. The songs aren't as funny as South Park's (but really, whose are?) but they get the job done. All in all, a pretty good premiere. Take a look at the promo and see if you'll want to tune in this weekend.
American Dad returns as part of Fox's Animation Domination Sundays on September 25 at 8 p.m.
Your Daily Blend of Entertainment News
Thank you for signing up to CinemaBlend. You will receive a verification email shortly.
There was a problem. Please refresh the page and try again.