American Horror Story Promos Are Creepy Clues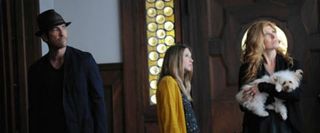 American Horror Story is the newest show from Ryan Murphy and Brad Falchuk, the men who bring you Glee. If you had asked me ten minutes ago if I would be tuning in to watch this new show of theirs, I probably would have laughed in your face and made some snarky and unintelligent remark. Now? I'm totally in and it only took 48 seconds.
What could possibly change my mind that quick? Especially when I have a rather large hate-on for Murphy? The show just released three 'clues' in the form of viral videos that look like something straight out of Mark Romanek's work with Nine Inch Nails, which is to say, awesome. Yes, this is some crazy cool marketing because I have no idea what I just watched but I know that it both creeped me out and caught my attention (love the use of the "Tainted Love" cover). Oh, and bringing in Tim Minear and James Wong doesn't hurt their cause either.
Included with the clips is the brief description or 'clue' that's offered on the show's YouTube channel and I guess they're supposed to help us figure out just what the show is about. If that's the case it looks like we're going to be getting a weekly dose of something like Todd Browning's Freaks updated with Romanek's style. And that sounds awesome. Enjoy the bizarre clips and start trying to solve the puzzle.
American Horror Story on FX - Clue #1: Cello
"What is American Horror Story's story? This mind-bending clue introduces you to two unique series characters and their rather unusual relationship."
American Horror Story on FX - Clue #2: Baby
"The next clue in the series exposes you to a baby or is it a doll? Is the meaning in the familiar tune?"
American Horror Story on FX - Clue #3: Couples
"The next clue in the series explores a moment of lust and illicit passion."
UPDATED! American Horror Story on FX - Clue #4: Coffin
American Horror Story on FX - Clue #5: Lying Down
American Horror Story premieres October 5 on FX. It stars Dylan McDermott, Connie Britton and Jessica Lange. Official synopsis from FX (opens in new tab),
Your Daily Blend of Entertainment News
Thank you for signing up to CinemaBlend. You will receive a verification email shortly.
There was a problem. Please refresh the page and try again.