American Idol: A Star is Born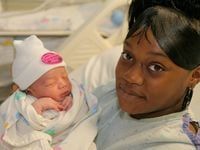 Sheesh, some people will do anything to sing on TV. Even if it means giving birth with the cameras rolling. Such was the case for Antoria Gillon, who showed up at Texas Stadium in Dallas ready to audition for 'American Idol.' The only problem? She was 9 months pregnant, and that baby was ready to make his entrance.
In an Access Hollywood story, Gillon recalls waiting in line with more than 13,000 other Idol hopefuls. "I didn't want to turn around after being there all those hours in the heat with people pushing. So my friend helped me walk through the line. I wasn't going to leave without singing."
And sing she did, fighting off contractions as she warbled through her song. "They were back to back and getting harder and harder, but I was more than willing to have my baby right there," she says. "I wasn't leaving without my golden ticket to the next round."
So did she get it? Yep, along with a healthy 6 lb., 7 oz. baby boy named Jamil Labarron Idol McCowan. She made it to the hospital, by the way. There's a story for the grandkids.
Season 7 of the popular song-fest will premiere on Fox next January. Those squabbling judges – Randy, Paula and, yes, Simon – are working their way across the country, looking for the next Kelly Clarkson or Taylor Hicks. So far, they've touched down in San Diego and Dallas. They're headed for Omaha tomorrow.
Wanna try out? Or maybe just gain fame as the fat woman in the Big Bird outfit? Check out AmericanIdol.com for audition cities, venues, and tips. Just don't show up with a mohawk. It's been done.
Photo Credit - Fox - 'Access Hollywood'
Your Daily Blend of Entertainment News
Thank you for signing up to CinemaBlend. You will receive a verification email shortly.
There was a problem. Please refresh the page and try again.