American Idol – Mariah Carey Night (Insert High Pitch Note Here)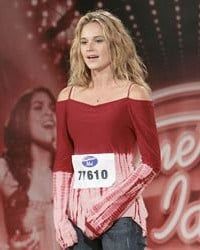 Michael Johns is one lucky man. Sure, he might have gotten voted off last week (much to the shock of many, including me), but at least he didn't have to spend time with Mimi. Tonight is Mariah Carey night, who recently achieved the lofty status of having as many #1 hits as Elvis Presley (who has a partnership with Idol's parent company). It seems like just yesterday that Mariah was losing her mind on TRL, and now here she is mentoring young singers, a few of which probably never ever even considered singing a Mariah song in public. I'm sure the video packages will be all grins and giggles, but you know someone really wants to mention Glitter really badly. Anyway, here's how "The Education Of The Idols" went:
David Archuletta- It's no surprise how much he loves Mariah. She encourages him to do one of her famous falsettos on "When You Believe," even though she is the only person on Earth who can hit those notes. I've been having a problem with David ever since TMZ showed his Star Search audition. Now when I see him perform, I keep thinking that every one of his songs is an attempt to get 3 ¾ stars from Arsenio Hall. He does do the falsetto, which he kinda of pulls off, but it's the deep notes that he can't really hit. David is still sleepwalking through these rounds, so I can't wait until there is a week he actually knocks it out of the park. Randy tells David he could pretty much sing anything, Paula loves him, and Simon just knew he would sing that song and it was very good. Simon also says he thinks the guys will have an easier time tonight, since you can't compare them to the originals as much.
Carly Smithson- Carly calls Mariah a ray of sunshine and can't even sing in front of her. I really didn't peg Carly to be star-struck by Mariah. I also didn't expect her to pick the wedding-singer classic "Without You." The first minute sounds totally miserable, like it's more of a funeral march. It takes the chorus for her to get into the song and show her range. She even hit notes that made me look up from the laptop because it sounded like the real version. Randy doesn't like how it began (like me), but she showed that her voice had power, Paula thinks she showed her own, and Simon says that even though comparing her to the original makes it hard, she didn't really pull it off. This may come down to which part of the song they show when the put up the phone numbers. If they show the first minute, she's toast, but if they show the 2nd half, she'll be OK.
Syesha Mercado- To my surprise, they show Mariah actually doing some coaching by going note for note with Syesha with "Vanishing." Syesha sounds a little hoarse during the quiet parts of the song. I don't get why none of the contestants (at least so far) can hit lower range notes. I fear that it might be because lower notes don't win you contests. Sure, she hits big powerful ones at the end, but when a song is all over the place like this one, it's a guaranteed ticket to the Bottom Three stools. Randy admits his concern over her picking such a hard song, but says it was good, Paula gives her credit for picking an obscure song and calls it magic, and Simon thinks it was good technically but the song was too obscure. Syesha's biggest obstacle will be that she's been in the bottom so many times, that with 7 people left, she'll probably be there again.
Brooke White- Brooke had to miss her sister's wedding so they could tape her Mariah Carey segment. You can actually see that Brooke is a little sad while she rehearses "Hero." Brooke is doing the one thing that always suckers me in: The Tori Amos-like cover. By reworking the song so it fits her, she can avoid the comparison trap that the previous two girls seemed to fall into. The stark sound of the piano is a nice contrast to the usual Mariah stuff. Her voice gets a little shaky, but that could be because she has to squeeze the performance into the short time that they provide for her. Randy calls it cool, but didn't like the bridge, Paula thinks this version was brave, and Simon says something was missing like ordering a burger and "only getting the bun." As confusing as that may sound, it made sense: Simon was saying that although stripping it down suited her, it took the spunk out of the song. But I still really liked it.
Kristy Lee Cook- Mariah tells KLC that she gets goose-bumps when KLC sings. I know exactly how she feels: I get shivers ever time I see KLC take the stage. KLC spends the first 30 seconds of this song swallowing every note. It takes at least two verses for her to even get mediocre. She does finish strong with a big huge note. By the end of the song, she sounds like a totally different person. Randy is knocked out by the end, but wasn't amazed by it, Paula gushes over it, and Simon admits he didn't get chills and says it wasn't great. If they weren't impressed by Syesha and Carly, KLC is not going to do well this week. It may be time for another shot of Syesha and KLC holding hands as the bottom two (hasn't that happened like 4 times?).
David Cook- David gives Mariah a taste an emo-ballad with his take on "Always Be My Baby." She even tries to harmonize with him for a bit. One thing his power ballad is missing is actual power. Like I said before, everyone is having low-note problems, and David is no exception, which is bad since the whole songs is low notes. Sure, when it goes into the big finish, he kicks it into gear and takes off, but it still didn't top his "Hello" cover earlier in the season. Randy gives him a standing ovation, Paula wants it in a movie soundtrack, and Simon calls him daring and the antidote to "Karaoke Hell." I like that David does these moody covers, but this wasn't my favorite, not that it makes a big difference. It did not hurt that David cried at the end – that will probably help him through to the next round.
Jason Castro- Nothing says Mariah Carey like an acoustic guitar and a flannel shirt, which is what Jason is wearing during his Mariah visit. She gives him some notes to hit, and now we'll see if he takes her coaching with him. Surprisingly, he doesn't play guitar on this one. He is surprisingly soulful, and he doesn't fall into his goofy hippy persona. He looks and sounds like a real singer tonight. Randy compares it to a luau and didn't like it, Paula is impressed with his confidence, and Simon agrees with Paula and thinks it was cool. I am not a huge fan of Jason, but this was my favorite song he's done so far.
So on Mimi night, the guys smoked the girls. Maybe it was because the guys had far less to lose, knowing that they would never have to worry about being compared to the real deal. Or maybe it was because two of the guys (David and Jason) went so far outside the box, as compared to the girls, who just did "covers." So it looks like we might have an all girl bottom three, but will it be Carly or Brooke who escapes the stools?
Your Daily Blend of Entertainment News
Thank you for signing up to CinemaBlend. You will receive a verification email shortly.
There was a problem. Please refresh the page and try again.