Archer And Bob's Burgers Crossover Has H. Jon Benjamin Pulling Double Duty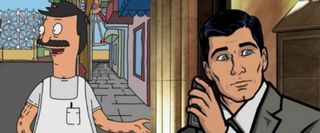 One of the funniest voice-actors currently working in animation is H. Jon Benjamin. He may not be a diverse talent - Benjamin's work over the years has all sounded, well, like Benjamin - but he's still managed to create a some memorable animated characters. And despite not having the range of say, Billy West or Hank Azaria, the comedian still has several voice gigs on the go with the biggest two - FX's Archer and Fox Bob's Burgers - planning a crossover.
According to EW, who caught up with Benjamin for a brief interview, the episode has already been recorded and will air as part of the upcoming fourth season of Archer on FX. John Roberts, who voices Bob's wife Linda on Burgers, will also feature in the tie-in but sadly none of the kids. Too bad, I would really have loved to see Kristen Schaal's Louise go toe to toe with Judy Greer's Carol/Cheryl. The Archer episode will follow a 'Bourne Identity-type plot line' that opens on Bob with no memory of his spy past but, after instinctively taking care of some thugs at the Burger joint, he's left questioning who he really is, namely, one Sterling Archer, code name Duchess.
Archer's creator Adam Reed, a fan of Burgers, masterminded the installment that will feature Benjamin voicing both Sterling and Bob (or, by the sounds of it, Sterling as Bob). As part of the FX series, the animation style will reflect that of the spy spoof, so it should be interesting to see the Burgers world through a slightly different lens, on top of watching (hearing) Benjamin do double duty. The concept was conceived by Reed and the Archer team but Burgers's creator Loren Bouchard has given his blessing and since he's worked with Benjamin for years (Dr. Katz, Home Movies) it probably wasn't too tough for the Benjamin to get his boss' blessing.
Archer is expected to FX for Season 4 in early 2013 and Bob's Burgers to Fox for Season 3 in September.
Your Daily Blend of Entertainment News
Your Daily Blend of Entertainment News
Thank you for signing up to CinemaBlend. You will receive a verification email shortly.
There was a problem. Please refresh the page and try again.