Armie Hammer To Guest Star On The Simpsons As The Winklevoss Twins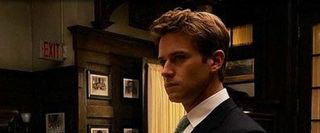 What's the next best thing to getting the Winklevoss'--the famous twins who sued Mark Zuckerberg over Facebook—to guest star on The Simpsons? Getting Armie Hammer, the handsome male who played both Winklevoss twins in David Fincher's The Social Network to guest star on The Simpsons. In fact, Hammer might even be the better deal: he's more likely to get the joke.
Hammer is set to guest star on The Simpsons in an episode that will be out some time early next year. The episode will be titled "The D'oh-cial Network" and will feature Hammer playing both Tyler and Cameron Winklevoss. According to EW, executive producer Al Jean has said the episode will revolve around Lisa creating a social networking site in Springfield, an experiment that will likely go awry.
It's unlikely Hammer's appearance will rank up there with Micheal Jackson's guest spot on The Simpsons. However, if we just get a high-speed boat race and a shoddy, made-for-TV version of "In the Hall of the Mountain King," I'll be happy. That might sound like muted anticipation, but the truth is The Simpsons has had so many guest stars over the years that simply calling on a big, or in this case fitting, name doesn't really tell the audience much of anything. I guess that's both the price and payment for offering the world over four hundred episodes. If there's anything we can be excited about, it's that writers of The Simpsons still have culturally relevant jokes up their sleeves, even if it may have been more timely to put Armie Hammer on the program as the Lone Ranger.
Your Daily Blend of Entertainment News