Arrow Season 2, Episode 10 - Blast Radius: 5 DCU Tie-Ins And Easter Eggs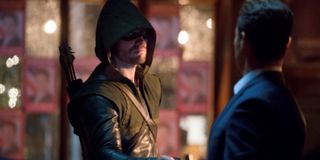 It's been over a month since Arrow was last seen fighting crime on the small-screen and the wait has been torturous after the way things were left hanging in "Three Ghosts." Forget that Barry Allen turned into The Flash, the mid-season finale also saw Roy get a dose of the mirakuru, Cyrus Gold go all Solomon Grundy, Oliver save Sara over Shado, and Slade truly become Deathstroke. Oh, and the super-powered mercenary has been the one supplying Sebastian 'Brother' Blood with the serum. So, yeah, the stakes are pretty high coming into "Blast Radius."
5. The Flash
Remember how I said to forget about Barry Allen? Well, now forget about that because it turns out his character, albeit in name only, still played a pretty big part in "Blast Radius." It turns out -- thanks to a tip from Bethany Snow at Channel 52 -- that it's been five weeks since the particle accelerator blast at S.T.A.R. Labs caused lighting to strike down the future Flash. And apparently he's been down this whole time, lying comatose in a Central City hospital with Felicity sitting by his side. I guess he's in no hurry to wake up. Had to, sorry. Her absence from the team is also a point of contention in the episode since she wasn't there to respond to Shrapnel's first attack.
4. Shrapnel
As you can see from the picture above, Arrow made a few changes to the DC villain to make Shrapnel fit better into the (increasingly less) realistic comic book world The CW has created. It's one thing to introduce a super-serum, a monster made of an organic metal is another thing altogether. To be fair, Mark Sheffer's origins are relatively unknown so his appearance in "Blast Radius" might just be the first of many with later iterations getting more cybernetic. For now, the villain of the week was played by Sean Maher and instead of shooting out of, well, shrapnel, he used various kind of explosives the same way that Ollie uses trick arrows. Out of all his acts as a domestic terrorist (possibly for The Movement), I especially liked his decision to not charge sales tax. It's too bad that Summer Glau's Isabel Rochev didn't make an appearance in the episode since she and Maher played sister and brother on Joss Whedon's Firefly.
3. Red Arrow
Speaking of sisters and brothers, Thea also has her hands full in "Blast Radius" but it's mostly with her unstable boyfriend. Roy recently got himself into some trouble, getting shot by the Arrow during the first part of the mid-season finale and then stuck with the mirakuru in the second. Fortunately, he was rescued before the 'man in the skull mask' could make him one of his mindless soldiers, however, there still seems to be some side effects. He's able to to use 'Speedy' as a constant of sorts and, instead of going crazy, proves himself ready to be Red Arrow as he heroically rescues Moira from Shrapnel's final attack. We don't know the full extent of his powers yet, but I'd say super-strength is a safe bet and he sure heals fast. I also bet he wouldn't mind getting back at the man who made him this way.
2. Sebastian Blood
Sebastian Blood has everyone convinced that he's the right man to save Starling City, everyone except for Laurel. I'd say the show's writers were desperate after the first season to find something significant for her character to do and now she's the only one who suspects the mayoral candidate of foul play. A good call since he stuffed his own mother in Saint Walker's Mental Institution after murdering his abusive father. Mrs. Blood sure got screwed on that one, nobody believed her story? I guess, cause, look at her, she's crazy! That wasn't the most convincing detail and I was also a little disappointed that we didn't see the return of Cyrus Gold as Solomon Grundy. I'm sure they're saving him for an installment that focuses more on the man in the skull mask and less on a villain of the week.
1. Deathstroke
The biggest reveal in the mid-season finale was that this year's big bad isn't actually Sebastian Blood but a mirakuru'd up Slade WIlson also back from the island and out to get revenge on Oliver for letting Shado die instead of Sara's Canary. That's quite the grudge and it might be because his mind has been permanently warped by the Japanese miracle drug. In the past, we're watching Slade lose the battle and continue to turn into Deathstroke while his future self is pulling all the present day strings. Confusing. What do you think he plans to do with all that mirakuru? If I was Dr. Ivo and the crew of the Amazo, I'd be worried. We know he makes it off of Lian Yu alive, the same cannot be said for them. Everybody better keep their, uh, good eye open, especially given next week's title.
Arrow returns with "Blind Spot," Wednesday, January 15 at 8 p.m. ET on The CW. Created by Marc Guggenheim, Andrew Kreisberg and Greg Berlanti, the DC Comics inspired series stars Stephen Amell, Katie Cassidy, David Ramsey, Emily Bett Rickards, Willa Holland, Colton Haynes, Manu Bennett, Paul Blackthorne and Susanna Thompson.