Arrow Season 3, Episode 20 Watch: DCU Connections And Easter Eggs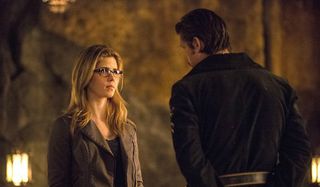 After the shocking conclusion to last week's episode, it's not surprising that "The Fallen" was heavy on the emotions and light on the DCU easter eggs. No villain-of-the-week and no crossovers or team-ups; just Team Arrow trying to deal with a dying Thea. Oh, and the flashbacks. It wouldn't be Arrow without flashbacks.
Then
I wonder if the writers actually want to include flashbacks every week or they just feel handcuffed to the structure after using it for two-plus seasons? I could probably do without them at this point, even though they occasionally offer up characters as cool as Tatsu. It's great to watch her kick-ass with her katana, but the scenes in Hong Kong have not been as exciting as the flashbacks of seasons past, and that's saying something since the sequences have never been particularly inspired. This week picked up right where "Broken Arrow" left off with Oliver, Tatsu and Maseo trying to recover the bio-weapon (a.k.a. the Alpha and Omega) before General Matthew Shrieve uses it in some sort of false flag operation. Or something. It's hard to care. Even when the weapon burst, my reaction was 'huh.' At this point, I'm just hoping the Creature Commandos show up.
Now
Didn't I say last week that Ra's al Ghul was going to offer to bring Thea back to life using the Lazarus Pit if Oliver agreed to become the Heir to the Demon? Geez, I'm smart. Although, I doubt I was the only one thinking that after the the writers talked about how they would eventually be bringing the biblical namesake into the show. Malcolm strongly objects to subjecting 'Speedy' to the pits since she won't be the same person when she comes out, even suggesting that Team Arrow should take a trip to Central City to see if S.T.A.R. Labs can help.
Despite his protests, Malcolm joins Ollie, Dig and Felicity on the trip to Nanda Parbat (jet courtesy Ray Palmer, who is already distancing himself from Arrow in preparation for the spin-off) to exchange Oliver's life for Thea's. Metaphorically, speaking, of course, as Oliver isn't really dead; he's just taking on a new identity. And I must say, he looks pretty badass as Al Sah-him, the next leader of the League of Assassins. Oh, and Oliver and Felicity finally hooked up. That was a long time coming. I also enjoyed the scene between her and Ra's, with the latter making mention of his son and daughter. I don't think he was talking about Nyssa. You know, the last person to call themselves the Heir to the Demon.
Arrow continues with Episode 21, "Al Sah-him," next Wednesday at 8:00 p.m. ET on The CW. Created by Marc Guggenheim, Andrew Kreisberg and Greg Berlanti, the DC Comics inspired series stars Stephen Amell, Katie Cassidy, David Ramsey, Emily Bett Rickards, Willa Holland, Paul Blackthorne and John Barrowman.
Your Daily Blend of Entertainment News
Your Daily Blend of Entertainment News
Thank you for signing up to CinemaBlend. You will receive a verification email shortly.
There was a problem. Please refresh the page and try again.